No matter what sum the British court fines her, the British taxpayers will never see that money again. AThe only silver lining in the story is that the government changed the housing benefit guidlelines. KGS
H/T: Gaia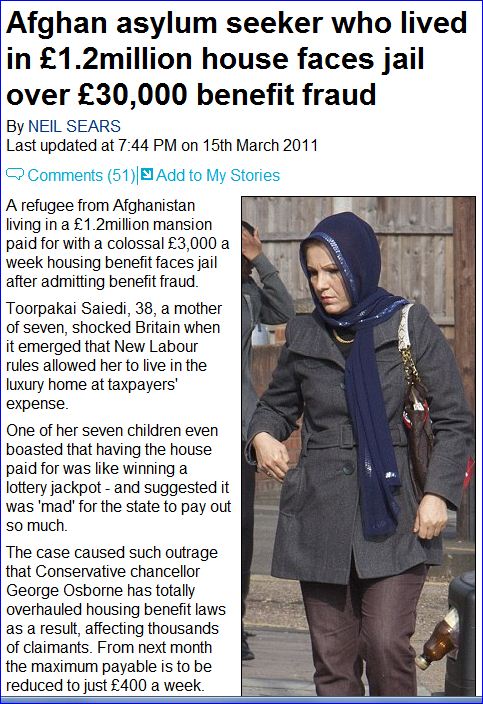 […] The charges involve Saiedi not disclosing the bank account to Ealing council officials when claiming for council housing benefit and council tax benefit, and similar deception when claiming tax credit from the Department of Work and Pensions.

Judge Jonathan Lowen warned she may face imprisonment as he ordered a pre-sentence report and, without any irony, demanded she must not move from her luxury mansion without informing the court.

Judge Lowen said: 'I am asking for a pre-sentence report. It is not intended to limit any sentencing. All options remain open including custody.

Delight: Son Jawad Saiedi who idled away his days playing snooker and driving around in cars
'You have been granted bail on the condition that you do not move from your current address without informing the court and that you must co-operate in the preparation of the report.'

Saiedi claimed asylum after coming to Britain in 2001 with her children, a year after her husband Haji Rahmat Shah Saiedi, 47, had arrived in London.

The family, who were granted leave to remain, said they were wealthy farmers near Bagram airbase, 20 miles from the Afghan capital Kabul, but claimed they were forced to flee because of Taliban threats.

They then lived in a series of ever larger properties, all paid for by local authorities – first in a three-bedroom terrace house in Enfield, north London, and then in a five-bedroom semi in Ealing, before moving into their controversial seven-bedroom palace.