Actually, jihad has been a pointed spear or sword into the side of Inda for centuries, it's been an ongoing battle between the Hindu state and Mohammedan ever since the roaming Muslim horde crossed the frontiers into traditional Indian territory. It hasn't stopped. This but a new phase of battle in an ancient war. Remember, the areas now called Bangladesh, Pakistan and the disputed territories of Kashmir, were all once undisputed Indian lands  KGS
NOTE: If they're are any Indians reading this blog post in particular, who have something to offer the Tundra Tabloids' readers, on the issue of Islam in India, please feel free to leave them in the comments and I'll make a special post from it if substantive enough.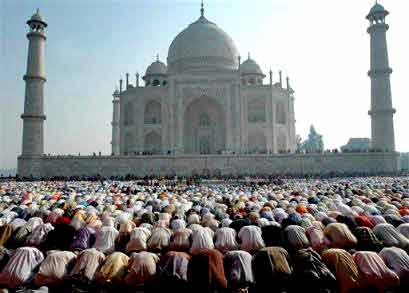 Jihad Has Come to India
Jihad has come to India. The Obama administration and the State Department will tell you that it is nothing more than isolated acts by individuals. The government in New Delhi will say you are stirring up anti-Muslim sentiment. The mainstream media will ask how you can say that when we are hearing nothing about it from them. But it is real, and it is happening now. I have seen it first-hand. The Obama administration's studied denial will find us caught as flat-footed in India as we were in Lebanon, Egypt, Libya, and elsewhere. The difference is that India is an economic and military giant, with nuclear weapons, and could be a cornerstone of any effective fight against radical Islam.
For several years, I have been talking about the progressive radicalization of Bangladesh. Although it is the only country that ranks among the ten most populous and the ten most densely populated, as well as being the second largest Muslim-majority nation, events there do not capture people's imagination. When you talk about India in the same context, however, people take notice. The thought of an Islamist dominated India scares the heck out of them and should. While our own strategic thinkers concentrate on internecine struggles in the Middle East, their obliviousness to the significance of an Islamist India has enabled our enemies to further their agenda.
I have spent several years along India's 2545 mile-long frontier with Bangladesh, and have seen the impact Bangladesh's radicalization has had on its giant neighbor to the west. Amitabh Tripathi, who has been fighting against what he calls his country's "soft policies," noted that Bangladesh's Muslims "are not radicalized but their institutions are." That radicalization and a level of corruption on both sides of the border that makes my fellow Chicagoans look like amateurs has already produced demographic change in many strategic areas of India. It also has given Muslim activists carte blanche throughout the entire country. The process is deliberate, has been going on for decades, and should send us a screaming warning signal, not only because of what it bodes for India, but also because of what sort of future the Obama administration's soft policies and tolerance for an open border to our south mean for the United States.
Each year in districts like Uttar Dinajpur and North and South 24 Parganas directly across from the Islamic state, my colleagues and I find that more and more villages which once had mixed Hindu-Muslim populations are now all Muslim or Muslim-dominated. Gone are the roadside temples characteristic of places where Hindus practice their faith openly; gone are the sights of Hindu women dressed in their colorful saris and other vestments. They have been replaced by mosques and burqas. Last year, Tripathi and I met with Bimal Praminik, Director of the Kolkata-based Centre for Research in Indo-Bangladesh Relations and arguably the foremost authority on these population changes. He is convinced that this population shift is a deliberate and an integral element the jihad that threatens all of us: "Bangladeshi infiltration with Pakistani ideas… trying to 'Pakistanize' the entire region," he said adding that that the dominant culture for South Asian Muslims has become more "Arabic," than South Asian.
FROM THE COMMENTS:
INDIAN: The politicians are worse in India. They are leftist left. Our Prime Minister recently told that Muslims have the first right to all resources in the country. Can any one imagine the impact of that statement?

India is the first country in the world implemented the family planning in 1960s/70s to combat the high population late. Until 70s all religious people used to have bigger families. Past ~40 years except people of one religion every one else having very few kids ( 1 – 3). You guessed who that exception is. There are so many ghettos in India, where other religious people cant go.

And in next few decades India will be dominated by Muslims like Indonesia.