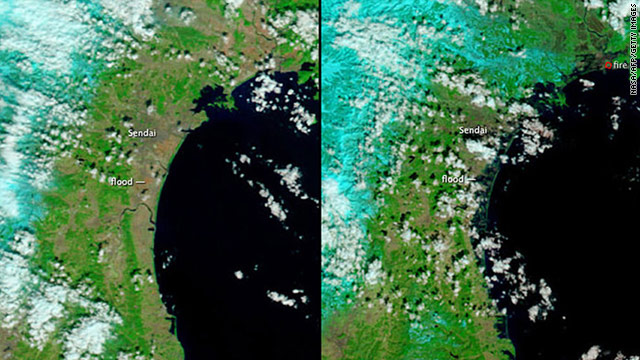 Quake moved Japan coast 8 feet, shifted Earth's axis
(CNN) — The powerful earthquake that unleashed a devastating tsunami Friday appears to have moved the main island of Japan by 8 feet (2.4 meters) and shifted the Earth on its axis.
"At this point, we know that one GPS station moved (8 feet), and we have seen a map from GSI (Geospatial Information Authority) in Japan showing the pattern of shift over a large area is consistent with about that much shift of the land mass," said Kenneth Hudnut, a geophysicist with the U.S. Geological Survey (USGS).
Reports from the National Institute of Geophysics and Volcanology in Italy estimated the 8.9-magnitude quake shifted the planet on its axis by nearly 4 inches (10 centimeters).
The temblor, which struck Friday afternoon near the east coast of Japan, killed hundreds of people, caused the formation of 30-foot walls of water that swept across rice fields, engulfed entire towns, dragged houses onto highways, and tossed cars and boats like toys. Some waves reached six miles (10 kilometers) inland in Miyagi Prefecture on Japan's east coast.
[…]
The quake was the most powerful to hit the island nation in recorded history and the tsunami it unleashed traveled across the Pacific Ocean, triggering tsunami warnings and alerts for 50 countries and territories as far away as the western coasts of Canada, the U.S. and Chile. The quake triggered more than 160 aftershocks in the first 24 hours — 141 measuring 5.0-magnitude or more.
The quake occurred as the Earth's crust ruptured along an area about 250 miles (400 kilometers) long by 100 miles (160 kilometers) wide, as tectonic plates slipped more than 18 meters, said Shengzao Chen, a USGS geophysicist.
Japan is located along the Pacific "ring of fire," an area of high seismic and volcanic activity stretching from New Zealand in the South Pacific up through Japan, across to Alaska and down the west coasts of North and South America. The quake was "hundreds of times larger" than the 2010 quake that ravaged Haiti, said Jim Gaherty of the LaMont-Doherty Earth Observatory at Columbia University.