This is a disgrace, the parishioners should rally outside his office and show him the door for treating their own faith with such open disdain. This fake and former Christian needs some serious defrocking. KGS
Via Weasel Zippers
NOTE: I lay you odds that this guy is a major Lefty.
Episcopal cleric tries Islamic rituals for Lent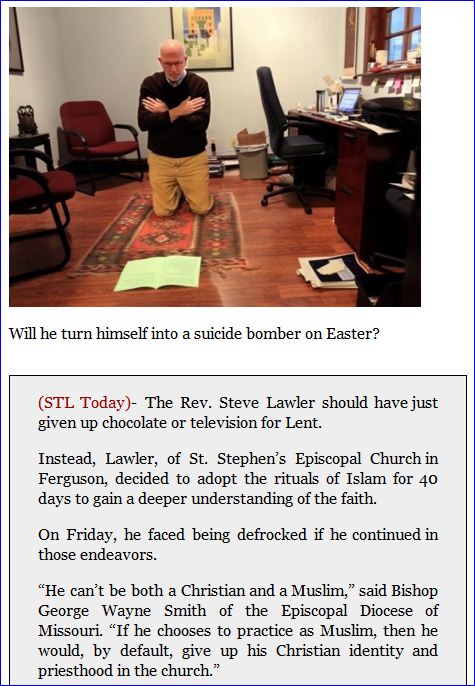 Lawler, a part-time rector at the church, didn't foresee such problems when he came up with the idea. He merely wanted to learn more about Islam, he said, especially in light of the ongoing congressional hearings on the radicalization of the faith.

On Wednesday, the first day of Lent, he began performing salah five times a day, by facing east, toward Mecca, and praying to Allah. He also started studying the Quran and following Islamic dietary restrictions by abstaining from alcohol, pork and fish.

During Holy Week, he planned to fast from dawn to sunset as Muslims do during Ramadan.

But in Smith's eyes, the exercise amounts to "playing" at someone else's religion and could be viewed as disrespectful.