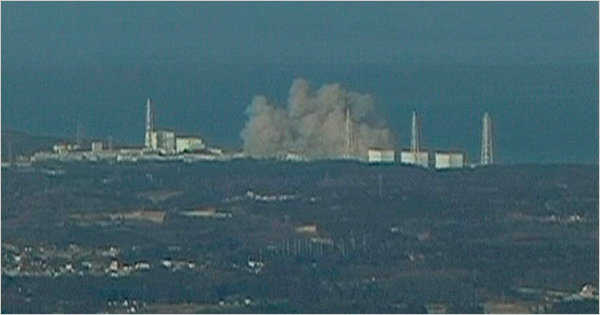 Building housing Fukushima I reactor blows up...
VIDEO...
REUTERS: Radiation leaking, pressure in core unstable...
Gov't: Levels are low...
JIJI: Levels 1,000 times normal...
Caesium detected; points to nuke fuel melt...
Evacuation widened to 20 km...
'No immediate health hazard,' officials say -- while evacuating 45,000...
Three plant workers suffer radiation exposure...
IAEA: Japan preparing to hand out iodine near nuke plants...
NEW PLAN: Fill leaking reactor with sea water...
Japan declares emergencies at 5 nuclear units...
Evacuations at Fukushima II...
Explosion Rocks Japan Nuclear Plant After Quake
TOKYO — An explosion at a crippled nuclear power plant in northern Japan on Saturday blew the roof off one building and caused a radiation leak of unspecified proportions, escalating the emergency confronting Japan's government a day after an earthquake and tsunami devastated parts of the country's northeastern coast.
Japanese television showed a cloud of white-gray smoke from the explosion billowing up from a stricken reactor at the Fukushima Daiichi Nuclear Power Station Saturday afternoon, and officials said leaks of radiation from the plant prompted them to expand the evacuation area around the facility to a 12-mile radius.
Government officials said that the explosion, caused by a build-up of pressure in the reactor after the cooling system failed, destroyed the concrete structure surrounding the reactor but did not collapse the critical steel container inside. They said that raised the chances that they could prevent the release of large amounts of radioactive material and could avoid a core meltdown at the plant.
"We've confirmed that the reactor container was not damaged. The explosion didn't occur inside the reactor container. As such there was no large amount of radiation leakage outside," Japan's Chief Cabinet Secretary Yukio Edano said in a news conference Saturday evening. "At this point, there has been no major change to the level of radiation leakage outside, so we'd like everyone to respond calmly."