This story speaks legions on the stupidity of Western women, who really think that they know it all, but in reality are as ignorant as a turnip. They haven't a clue of what they're talking about, or what might actually lie in store for them. No doubt the issue of religion will come up once she's married and children are on the way, but by then it'll be too late. 
NOTE: This is the same woman who's rich Muslim boyfriend refused to show his mother her picture where she's posing in ladies undergarments in conjunction with her beauty pageant requirements.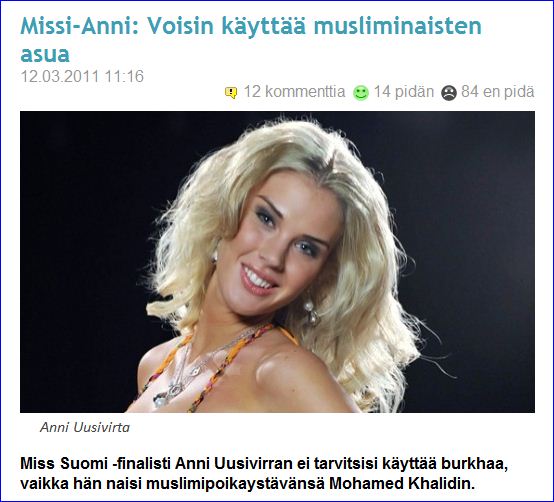 Miss-Anni: I could use a Muslim woman's garment
MTV3: Miss Finland finalist Annie Uusivirta is not required to use a burka, even if she is going to marry her Muslim boyfriend, Mohamed Khalid.
– Even if we go get married, I do not have to wear it, because I am a westerner. But I could still use it, for example in relation to my husband's family, because I want to prove that I'm interested in their culture and I respect it. It would however be my own choice, Anni says.
The garment is also linked to mysticism, which interest her.
– I once saw a tall blonde woman, who bore the burka. That is a beautiful sight, and surely turn heads. It raises interest, what is exactly her story.
H/T: Kumitonttu
NOTE: How she knew the tall woman in a burka was I'll never know.