The White House and Muslim Brotherhood affiliated Islamic groups are busy trying to get the people to look the other way. The "we all are Muslims now" idiots can have their protests, but as the Muslim Brotherhood's meat hooks into US society become all to apparent, US Islamic communities are going to be met with even harder questioning as to why they have allowed fundamuslimism to metastasize to its present level. Should be an interesting hearing. KGS
H/T Scottish Infidel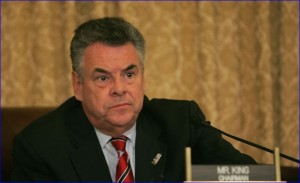 White House works to allay Muslims' fears on terror hearings
Sterling, Virginia, USA: As a Republican congressman prepares to open hearings on the threat of home-grown Islamic terrorism, President Obama's deputy national security adviser visited a mosque here on Sunday to reassure Muslims that "we will not stigmatize or demonize entire communities because of the actions of a few."
[…]
"In the United States of America, we don't practice guilt by association," Mr. McDonough told an interfaith but mostly Muslim audience of about 200 here at the All Dulles Area Muslim Society, known as the Adams Centre. "And let's remember that just as violence and extremism are not unique to any one faith, the responsibility to oppose ignorance and violence rests with us all."
[…]
In Washington, Mr. King, who represents parts of Long Island, faced off on CNN with Representative Keith Ellison, a Minnesota Democrat and the only Muslim in Congress. Mr. Ellison said he would testify at Mr. King's hearing on Thursday despite his deep conviction that it was wrong for Congress to investigate a particular religious minority.
In New York, 500 people demonstrated near Times Square to protest the hearings and to call on Mr. King to expand his witness list to include other groups.
"That's absolute nonsense," Mr. King said in a telephone interview, adding that Al Qaeda was trying to radicalize Muslims and that its effort was the leading home-grown terrorism threat.
"The threat is coming from the Muslim community," he said, "the radicalization attempts are directed at the Muslim community. Why should I investigate other communities?"
As the Times Square demonstrators held up placards declaring "Today I am a Muslim too," Rabbi Marc Schneier, president of the Foundation for Ethnic Understanding, and Feisal Abdul Rauf, the imam who is a co-founder of a project to develop an Islamic community centre and mosque near ground zero, addressed the crowd.
"To single out Muslim Americans as the source of home-grown terrorism and not examine all forms of violence motivated by extremist belief — that, my friends, is an injustice,"
NOTE: The Rabbi is nothing more than a useful stooge and held in contempt by the same people he's parading around with, as are the Israeli Jews who demonstrate with Palestinians at all of the famous hot spots in and around the security fence.