They should have pulled the switch on this piece of crap decades ago. KGS
Sirhan Sirhan denied parole in 1968 RFK killing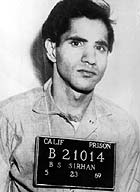 COALINGA, Calif. (AP) – Parole officials have refused to give Sirhan Sirhan a date with freedom, saying he hasn't shown sufficient remorse for Sen. Robert F. Kennedy's death and doesn't understand the enormity of the assassination that changed U.S. history more than 40 years ago.
During four intense hours Wednesday in a prison's small hearing room, Sirhan told board officials of his regret but also said he could not remember the events of June 5, 1968.
"I don't remember pulling a gun from my body. I don't remember aiming it at any human being. Everything was always hazy in my head," Sirhan said. "I don't remember anything very clearly….I'm not trying to evade anything."
Sirhan said he underwent hypnosis at his lawyer's behest but still did not remember shooting Kennedy or five other victims in the crowded kitchen of the Ambassador Hotel in Los Angeles where Kennedy stood moments after claiming victory in the California presidential primary.
"Every day of my life, I have great remorse and deep regret," he told the panel at Pleasant Valley State Prison in Coalinga. He said a psychologist told him years ago to stop dwelling on it or he would never heal.
[…]
"The magnitude of this crime is one that a nation mourned over, and from that day on, politicians changed the way they interacted with people," Prizmich said.
He noted the impact on the Kennedy family, which had endured another tragedy five years before with the killing of President John F. Kennedy.
At that point, Sirhan interjected, "That's not my responsibility."
The commissioner cut him off.
"In this way, interrupting me indicates a lack of control of yourself," he said.