No doubt anti-US malcontent fat boy, Michael Moore will be selling his shares of Finnish Nokia.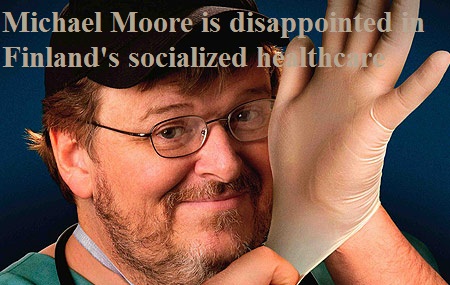 Stunning! Politicians here thump their chests in pride over Finnish healthcare, with even the so called "conservatives" loudly proclaiming their support of the Finnish welfare state all the while people are deserting it. For all of the TT's US readers, please reject state mandated healthcare with all your might.
What's at stake is not just sub-par healthcare, (not saying that good care can't be obtained, because it does happen) but that the government increases its role into the lives of its citizens, with the government being everywhere. No one can say anymore, just what exactly are its limitations, no one can say, or are willing to say, that individual responsibility trumps government meddling.
So Finns are opting out for private healthcare, why the US would be willing to repeat the errors of other states is beyond me. KGS
More parents taking private health insurance for children
Increasing numbers of parents are taking out private health insurance policies for their children. According to the Finnish Innovation Fund SITRA, 60 per cent of Finns under the age of 20 have a private insurance of some kind.
Insurance companies say that the number of insurance policies for adults is also growing. The If… insurance company says that private health insurance has grown by an average of seven per cent a year.
Two large insurance companies have a total of a quarter of a million health insurance customers. Pohjola has 124,000 and If… has 123,000.
Pohjola Insurance reports that more than 68,000 of its policies are for children and nearly 56,000 are for adults.
Yrjö Mattila, head of development at the Social Insurance Institution KELA, says that public health care is declining in its purest form.
Last year KELA paid compensation for more than 95,000 visits to private doctors by children under the age of 4. The number of visits for children under 14 was 220,000.
Mattila says that many people resort to private medical services because of a common perception that public clinics offer slow and inferior service. However, he notes that there has been little research into differences in quality between public and private health care services.
Mattila says that health care is paid for three times over: a public health insurance premium is deducted from wage earners' pay, public health care is paid out of taxpayers' money, and many pay for private health services to treat their ailments.