The New Egypt. KGS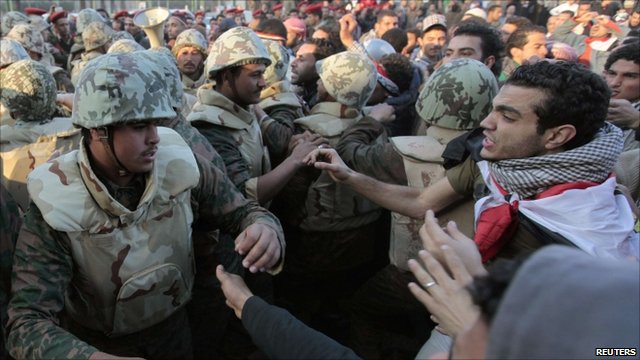 Egyptian police, military break up Tahrir Square demonstrations
After tens of thousands of protesters returned Friday to Tahrir Square, the site of demonstrations that led to the ouster of President Hosni Mubarak two weeks ago, the Egyptian police and military swept into the square after midnight to break up the demonstration.
[…]
But after midnight, the military made it clear that there would be limits to further dissent, as soldiers and plainclothes security officers moved into the square, beating protesters and tearing down their tents, witnesses said.
While many details remained unclear early Saturday, the action raised questions about the intent of the military, whose neutrality during the uprising, and unwillingness to fire on the protesters, had turned them into heroes of the revolution.
The protesters had been calling for the cancellation of the Emergency Law, which for three decades has allowed detentions without trial, and the resignation of Prime Minister Ahmed Shafiq, a former air force general appointed by Mr. Mubarak only days before he stepped down.
But as they moved toward the prime minister's office in the evening, they were blocked by armored personnel carriers and a line of soldiers armed with Tasers.
Later, the soldiers and police officers took over Tahrir Square, where about a thousand people had pitched tents for the night.
Salma Said related how she was awakened when her tent fell down on top of her. Outside people were screaming, and she emerged to see people being beaten by soldiers and armed plainclothes security officers wearing masks.
"One of the officers threatened to shoot us and said he was going to set our tent on fire," she said.
Egypt army sorry for beating protesters
Egypt's ruling military council apologised on Saturday after military police beat protesters in Cairo's Tahrir Square, but activists called for fresh protests to denounce violence by the authorities.
A security official and witnesses said that shortly after midnight, military police surrounded protesters, beating them with batons and using Tasers to disperse the crowd of several hundred that had gathered to push for reforms.
The Supreme Council of the Armed Forces said that "what happened late Friday was the result of unintentional confrontations between the military police and the youth of the revolution".
It stressed that it "did not and will not issue orders to attack the youth, and all measures will be taken to ensure this will not happen again".