A misnomer if there ever was one:
"The countries of European flag-carriers reject arrangements of this sort. The thinking is that the threat of violence to crews would increase if violence is met with violence."
So what the Finnish Foreign Ministry's Unit of EU and Treaty Law, Ms. Kaija Suvanto, is trying to say is, Finnish sailors who come into contact with Somali pirates, should prepare themselves to be held captive by these thugs.
The only logical thing to happen from such an obvious failure of a decision, is for the ship owners to reflag themselves with a country that allow s common sense rules of engagement, people need to defend themselves from being held captive by jihadi pirates. KGS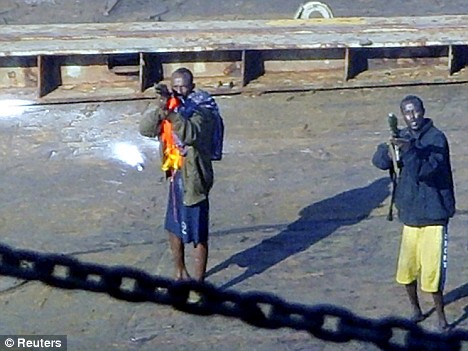 Officials Reject Call for Armed Guards on Finnish Vessels
Finnish officials have rejected calls to place armed guards aboard Finnish cargo ships. Both the Foreign Ministry and police officials have turned down a proposal by the Finnish Shipowners' Association to use soldiers or armed guards to protect ships in waters off the coast of Somalia. The International Maritime Organisation, the IMO, has urged owners to upgrade security in the face of the growing problem of piracy.
The IMO recently sent a letter to member states and other partners demanding improvements in security arrangements aboard ships at sea. According to the organization, the situation has significantly worsened this year and the warships sent by various countries to patrol the area have not had the impact on piracy that was hoped.
Insurers and private security firms have undertaken to solve the problem themselves. Currently in Britain, steps are underway to establish a private marine corps with its own warship and a force of 150 men. The international security giant G4S is offering owners the services of a special force of British ex-soldiers. According to the company, this special unit has had an average of 40 assignments a month over the past few years.
Finnish security companies are interested in similar operations, at least in theory, even though so far there have not been requests, according to Petri Miettinen of the security services provider Turvatiimi.
"So far none has been received, but when the first request comes in, it will be analysed and an opinion will be sought from the authorities. After that, thought will be given to how it could be carried out in practice," explains Miettinen.
UPDATE:  A Tundra Tabloids' source tells the TT that the Finnish "security service" mentioned in the report, Turvatiimi, is actually a night club security organization. Bwhahahahahahahahahaha!
What do they know about ship security, all they do is to sit and guard the front doors of night clubs and government buildings. We are so screwed. They should be asking firms like Haganah Security what their opinions should be. Unbelievable.