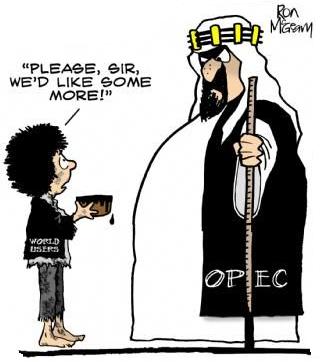 FROM THE TUNDRA TABLOIDS' COMMENT BOX:
TINSC: Ghadafi is 69 years old; not exactly a "spring chicken" anymore. He's been in power for over 40 years. That's a LONG time.
Something is very wrong when OPEC member states start having these problems.
I wonder if OPEC has squeezed their production quotas so tight that they are not realizing enough revenue to keep the population content. With production quotas so tight, it is hard, even at high oil prices, to grow an economy.
OPEC has put a choke hold on world economic growth by tightening their production quotas. Industrialized countries like Ireland, Greece and Spain are experiencing severe economic strain as are several other industrialized countries.
Having caused a massive recession in 2008 in large part because of their economic plunder, it's only a matter of time before the problems boomerang. Instead of keeping production quotas at 2008 levels and fueling economic recovery, OPEC cut production squeezing the industrialized nations even more. This has prolonged the recession here in the U.S. and elsewhere.
If the industrialized countries are straining, can OPEC member nations continue with business as usual?