Well the Tundra Tabloids' question was answered late last night. The Bahrain government is not going to allow the protests to get out of hand like the Egyptian government did, they can't count on the US for backing and so they're not going to be taking any risks of matters getting out of hand. Hence the strong hand. KGS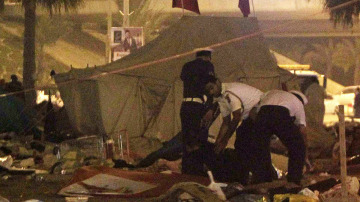 50 armored vehicles roll into Bahrain capital square
By ASSOCIATED De-PRESSed
02/17/2011 09:47
Police storm square occupied by anti-government protesters, use tear gas, rubber bullets as 1000s gather in capital Manama; 2 reported dead.
MANAMA, Bahrain — At least 50 armored vehicles were seen in Bahraini capital city Manama's Pearl Square early Thursday, Israel Radio Reported. Only hours before, riot police were firing tear gas and wielding clubs as they stormed the landmark square occupied by anti-government protesters, driving out demonstrators and destroying a makeshift encampment that had become the hub for demands to bring sweeping political changes to the kingdom.
The main opposition group Al Wefaq said at least two people were killed in the assault on Pearl Square, which was littered with flattened tents, trampled banners and broken glass. There was no official word on deaths or injuries, but hospitals treated dozens of people with serious gaping wounds, broken bones and respiratory problems from the tear gas.
UPDATE:
Here's a vid Vlad posted that reports on four troubles spots and the Iranian ships' Suez crossing.