The Tundra Tabloids reported on this yesterday, but the fact that they yelled Jew, Jew!! wasn't known until later. This goes to show the kind of animals parading around in the streets of Egypt, not only do they molest and rape women in Egypt on a regular basis, an almost national pastime sport, they all hate Jews.
Also, don't be fooled into thinking that the Christian Copts were, and still are, great supporters of the overthrowing of Mubarak's regime,  they stand to loose big time if and when the Muslim Brotherhood begins to exert any influence on Egyptian society. KGS
H/T: Person of the Book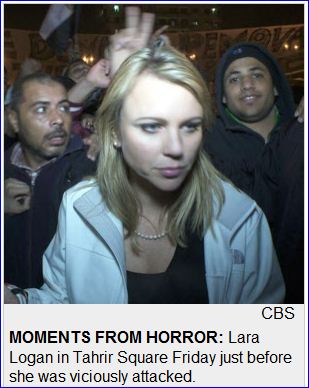 CBS reporter's Cairo nightmare
NYPOST: "60 Minutes" correspondent Lara Logan was repeatedly sexually assaulted by thugs yelling, "Jew! Jew!" as she covered the chaotic fall of Egyptian President Hosni Mubarak in Cairo's main square Friday, CBS and sources said yesterday.
The TV crew with Logan, who is also the network's chief foreign correspondent, had its cameras rolling moments before she was dragged off — and caught her on tape looking tense and trying to head away from a crowd of men behind her in Tahrir Square.
Jihad Watch has this via Weasel Zippers: "A network source told The Post that her attackers were screaming, "Jew! Jew!" during the assault. And the day before, Logan had told Esquire.com that Egyptian soldiers hassling her and her crew had accused them of "being Israeli spies." Logan is not Jewish."