Islam, always willing to take a hand, not to give one. KGS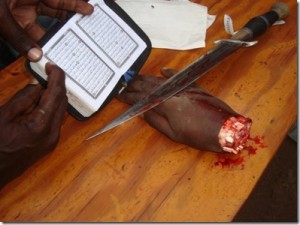 Teenager's hand cut off over affair
Emirates 24/7: Eight men armed with axes attacked a teen age boy in Kuwait and cut his hand off to punish him for his relationship with a girlfriend of one of them, newspapers reported on Sunday.
Police said they arrested six and are searching for the other two after the attack that also seriously wounded the 17-year-old boy.
Newspapers quoted a police spokesman as saying the assailants would be tried on charges of attempted murder.