DailyStar: "In the Daily Star phone poll yesterday, 98% of readers said they agreed with the EDL's policies."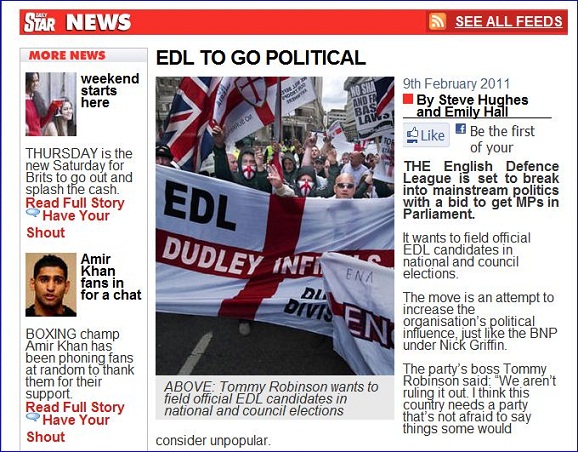 POT CALLS KETTLE BLACK
Daily Star Champions the English Defence League
TheGuardian: Yesterday's Daily Star broke new ground by publishing a political splash. Over a picture of flag-waving marchers was the headlineEnglish Defence League to become political party.
As this reproduction of its front page shows, it was anything but a neutral presentation. It is a clear piece of propaganda on behalf of the EDL, a group that opposes the supposed spread of Islamic extremism in Britain.
The story cannot be read as anything other than a cheer-leading, uncritical piece on behalf of the EDL. Triumphalist in tone throughout, it required no between-the-lines deconstruction to grasp its intention – to build support for the group among its readers.
Has the Daily Star Decided to Back the English Defence League?
TheIndependent: "Front page", boasted the Facebook page of the right-wing English Defence League yesterday as it triumphantly linked its followers to a headline in Richard Desmond's Daily Star that noted that the anti-Islamic organisation was to become a "political party".
It's a rare thing for the Star to "splash" on politics. And although the coverage referred to the EDL as being a "far-right group", it reported its activities in an uncritical manner and noted that, in a phone poll of readers the previous day, 98 per cent of respondents had "said they agreed with the EDL's policies".
NOTE: We all know how the Leftist media spins its narrative any way which way they please. Spare us all the sanctimonious clap trap drivel a paper being "anything but neutral", that's the signature of the Leftist media.