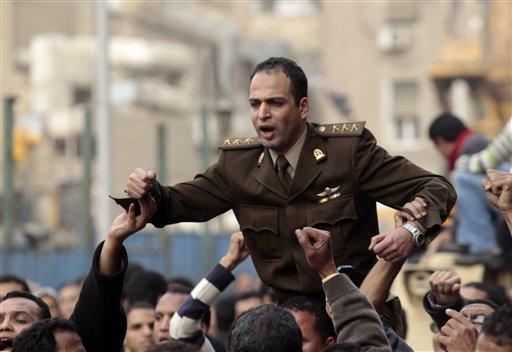 Either way this standoff between the Egyptian government, military and the demonstrators ends, it's going to be brutal. The thing is, just what exactly is happening inside the military?  The Tundra Tabloids will have to agree with TINSC in part, who notes in the comments to a previous post about the Mubarak speech (10.02.2011), where it was expected for him to resign:
1. The Ikhwan will NOT take over Egypt. (We would be wise to worry about preventing the Ikhwan from taking over the USA.)

2. Mubarak will stay on until the end of his term. If not, a trusted confident will take his place. The Egyptian Army will remain in control of the government.
We all know that Mubarak sprang from their ranks and enjoys its support, but for how long? In order to stave off the MB, will he give a nod to the military to stage a coup of his regime to ensure that the MB is locked out of power? There's also the threat that the MB has made some inroads into the military, Stratfor is reporting that:
"Officers in the Egyptian army tried to kill Egyptian Vice President Omar Suleiman, sources near the Egyptian presidency told journalist Ahmad Abd-al-Alim, Al Jazeera reported Feb. 10. Officers in civilian clothing hidden in trees were behind the assassination attempt, denied by Suleiman, in which two of Suleiman's guards died, Abd-al-Alim said. He also said major differences existed between the command of the armed forces and that of the intelligence services, adding that either Egyptian Defense Minister Field Marshal Hussein Tantawi or the Joint Chiefs of Staff chairman could come to power."
Yes, this is an Al-Jazeera reporter, so taking it at face value is not advised, but indeed the threat of a military coup is there, as well as a major bloodletting. One thing is becoming more certain for the TT, the Muslim Brotherhood will not be allowed to take control of the country, if they indeed have absolutely no significant backing within the military. KGS
Egypt: Army Against Shift of Power to Suleiman
(ANSAmed) – CAIRO, FEBRUARY 10 – Sources of Al Jazeera tv have said that the army is against the broadcasting of an address in which President Hosni Mubarak is expected to announce the transfer of all his responsibilities to Vice President Omar Suleiman.
Mubarak, State television reports, is having a meeting with Suleiman "at this moment".
A high officials of the Muslim Brotherhood has said that he fears the Egyptian armed forces are preparing a coup. "It looks like a military coup", said Essam al-Erian. "I am concerned and nervous. The problem is not the President, it is the regime".