This sign is surely bound to raise a lot of debate about mass immigration, exactly what it was designed to do. KGS

Campaign Posters For True Finns Candidate Falsely warn of Mosque Construction
Helsinki, passers-by have been drawn attention to construction site signs, who claim that the building site is for a mosque. In reality, it is not for Mosque.
For example, Niittaajankatu 12 on the banks of Herttoniemim Skanska is building residential apartments, even though a sign on the construction site state its a Herttoniemi mosque. Signs have appeared over the weekend in different parts of Helsinki. HS's data suggests that similar signs have been erected, at least in Kamppi and Lauttasaari.
Panels are erected without asked permission of the landowner.
Signs look legitimate site from the table, as they include the architects' office and name of electrical contractor. For example, the mosque's architect names LCC Engineering Ltd.. The client's name is in Arabic text.
The construction site promises more information on the internet at helsinki2020.fi, which takes you to the election page of parliamentary election candidate, masters in engineering, Juhani Mönkkösen, 30. Mönkkönen, says that immigration can not be undone, therefore the consequences have to thought of in advance.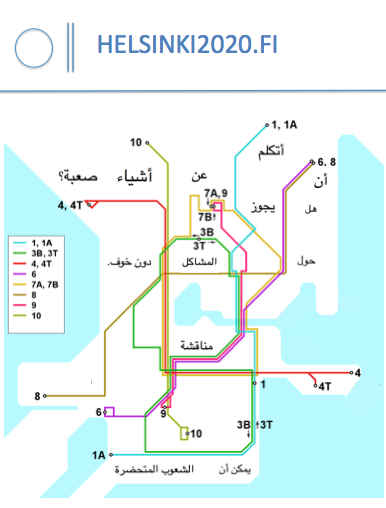 The site also includes the Helsinki metro map, which stops the names are written in Arabic. In the same style, a placard that appears on apartment building stairwells has the names of "Korhonen and Johansson", however, the names are in Arabic. The name placards have been made into posters have been disseminated, at least in Vuosaari, including to the outside doors of apartment buildings.
Mönkkönen is a candidate for Helsinki.
BRAVO!
[…]
"This is required to stimulate a debate, if decisions are to be made on immigration, it will change society forever. I have nothing against the Islamic religion. I just want to stimulate debate on what is good for Finns," says Mönkkönen by telephone.
Mönkkönen would not directly say he's responsible for the signs of his campaign, although he is aware of them.
NOTE: The Tundra Tabloids will cut Juhani Mönkkönen some slack, for now, concerning his statement that he has nothing against the Islamic religion. There is of course everything wrong with that destructive ideology, and that it has no place within our society, as is. But first things first.