UPDATE: raw video from RT:
LATEST ON EGYPT FROM MAT DRUDGE:
Protests intensify as clashes spread across Middle East...
'Angry Friday'...
Egypt warns of 'decisive measures'...
Police round up Muslim Brotherhood leaders...
Internet shut down...
BIDEN: Mubarek's no dictator, shouldn't step down...
PAPER: Events 'moving too fast for Obama administration'...
BBC, AL JAZEERA Reporters Attacked; CNN Cameras Confiscated, Broken...
Jordan's king under pressure...
Dramatic video as thousands clash...
Police members remove suits and join protests...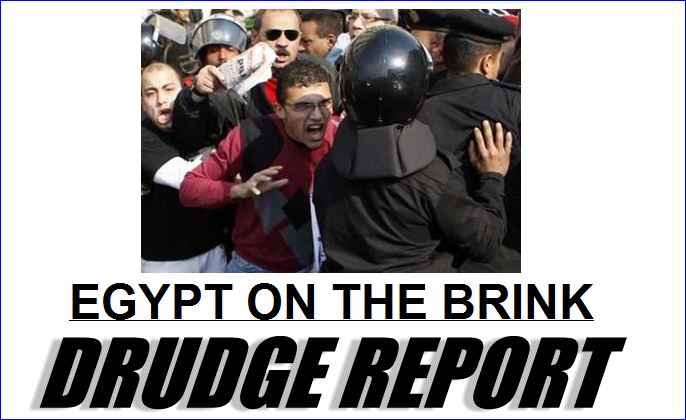 UN rights chief calls on Egypt to end emergency law (Extra) Monsters and Critics 16:51
Violence erupts in Cairo as protests escalate LA Times 16:51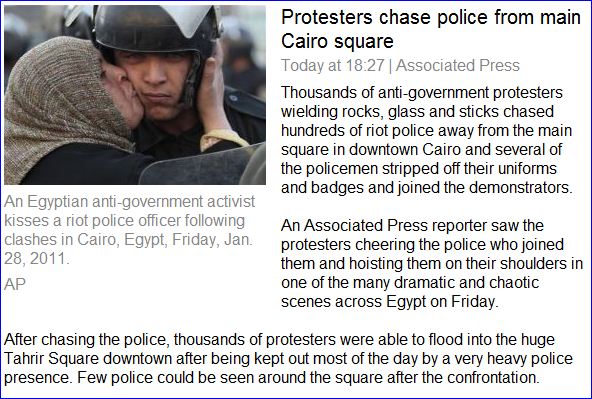 Muslim Brotherhood supports ElBaradeiMoves shows potential for change in Egypt
Mubarak headquarters is going up in flames..
Police moving from rubber to lead bullets:
UPDATE III:
Egyptian army moves into Cairo as protests persist
The Egyptian army moved into the streets of Cairo on Friday evening, according to news reports, as the country's authorities sought to quell escalating protests that threaten to seriously destabilize one of the U.S.'s most important allies in the Middle East. As darkness fell, television pictures showed military vehicles taking up positions at intersections and other key points in Cairo.
Army and police clashing on the streets
AgenciesBREAKING NEWSPublished: 20:57 January 28, 2011
Cairo: Al jazeera reports unconfirmed reports of Army and police clashing on the streets of Cairo
Protesters appear to be welcoming army on the streets in Cairo, reports add.