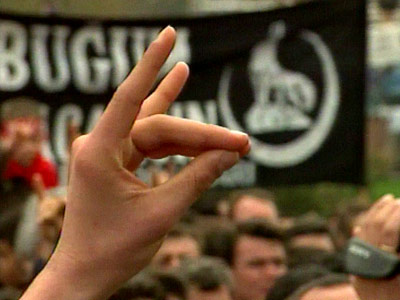 The movie "VALLEY OF THE WOLVES' is the product of the same foul mindset that's found in the Grey Wolves, a Turkish Neo-National Socialist movement. KGS
German film agency okays 'anti-Semitic' Turkish film
By BENJAMIN WEINTHAL JERUSALEM POST CORRESPONDENT
01/28/2011 05:25
On Holocaust Remembrance Day Turkish film "Kurtlar Vadisi: Filistin (Valley of the Wolves: Palestine)" given green light.
Talkbacks (2)
BERLIN – Germany's FSK (Voluntary Self-Regulation of the Movie Industry) agency green-lighted on Thursday – International Holocaust Remembrance Day – the showing of the anti-Israel and reportedly anti-Semitic Turkish film Kurtlar Vadisi: Filistin (Valley of the Wolves: Palestine).
According to a spokeswoman of the Pera film distribution company in Cologne, it can be shown immediately in Germany. As of press time it was unclear whether German theaters would actually show the film on Thursday. Austrian cinemas did show show it on Thursday.
FSK issued a statement on Thursday saying that children under the age of 18 are not permitted to see the film. According to the statement, Valley of the Wolves contains "propaganda tendencies" and "repetitive violence." The film cost $10 million to make, making it the most expensive in Turkish cinematic history.
The movie, the second part of Valley of the Wolves media franchise, recreates IDF commandos' interception of the Mavi Marmara protest ship to Gaza in May 2010, which resulted in the deaths of nine Turkish men. Critics of the film say that Valley of the Wolves glorifies Hamas and the Turkish IHH organization that dispatched the ship.
Maya Zehden, spokeswoman for the 12,000-member Berlin Jewish community, told The Jerusalem Post on Thursday that the film is "agitational" and "is not good" for Jewish-Turkish relations in Germany or for Israel- Turkey relations.