The Egyptians are clamping down, hard. Still too early to tell just how far this unrest is going to go, Egypt is a powder keg just waiting to blow. No doubt the Muslim Brotherhood is there fanning the flames. KGS
NOTE: Regardless of what happens in the near future, a free and just society will not be on the table for discussion.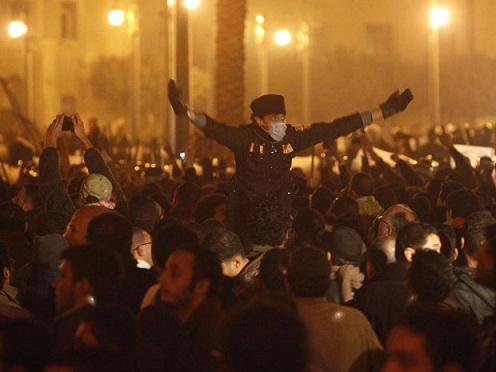 Egypt bans demonstrations
Reuters · Wednesday, Jan. 26, 2011
CAIRO — Egypt said on Wednesday it was banning demonstrations and quickly dispersed protesters who tried to gather, seeking to draw a line under unprecedented protests against President Hosni Mubarak's rule.
Activists called on Egyptians to take to the streets again on Wednesday to end Mr. Mubarak's 30-year rule after a "Day of Wrath" of anti-government protests across Egypt in which three protesters and one policeman were killed.
Police fired teargas and water cannon in the early hours of Wednesday to disperse protesters in Cairo's central Tahrir Square. By daybreak, Cairo and other cities were calm. Police were deployed in large numbers around the capital.
Brief attempts by protesters to gather again on Wednesday outside a court complex in Cairo and in the industrial city of Mahallah el-Kubra were quickly broken up. In Tahrir square, police questioned and moved on anyone who appeared to loiter.
As cleaners swept the last stones and debris from Cairo's streets, the independent newspaper Al-Masry al-Youm arrived at newsstands bearing a stark red front-page headline: "Warning".
"No provocative movements or protest gatherings or organisation of marches or demonstrations will be allowed, and immediate legal procedures will be taken and participants will be handed over to investigating authorities," the state news agency MENA cited the Interior Ministry as saying.
Some 20,000 demonstrators, complaining of poverty, unemployment, corruption and repression and inspired by this month's downfall of the president of Tunisia, had turned out in cities across Egypt on Tuesday to demand that Mr. Mubarak step down.