This is long overdue, the funding needs to be cut, with US policy vis-a-vis the UN based on reality, not on dogmatic faith based pandering to the 'good will' of anti-US UN member states. KGS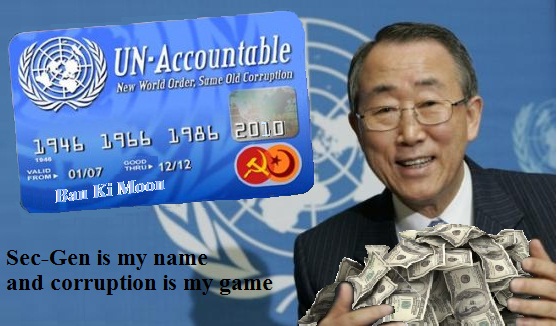 The World from The Hill: U.N. funding an early target for House Republicans
By Bridget Johnson – 01/23/11 05:22 PM ET
A key House Republican is quickly pressing forward with her goals to scale back U.S. funding for the United Nations.
Rep. Ileana Ros-Lehtinen (R-Fla.), chairwoman of the House Foreign Affairs Committee, told The Hill that oversight would be a key function of the panel, particularly funding to the U.N. Human Rights Council (HRC) that is "a waste of taxpayer dollars."
"I'd like to make sure that we once and for all kill all U.S. funding for that beast," she said last month. "Because I don't think that it advances U.S. interests, I don't think that that's a pro-democracy group, it's a rogue's gallery, pariah states, they belong there because they don't want to be sanctioned."
Supporters of continued U.S. support of and participation on the HRC say that it's essential that Washington have leverage on the panel, renowned for including countries that have their own records of human-rights violations.
On Tuesday, Ros-Lehtinen will host a panel of U.N. critics and advocates that was originally scheduled for the week that the House suspended most activity in the wake of the shooting of Rep. Gabrielle Giffords (D-Ariz.).
The 10 a.m. briefing before the full committee is titled, "The United Nations: Urgent Problems that Need Congressional Action."
One of those scheduled to testify, Peter Yeo, represents the United Nations Foundation/Better World Campaign, which at the start of President Obama's term urged the commander in chief to "mount a campaign" to secure a place on the HRC, which the Bush administration had boycotted.
U.N. critics set to appear include Claudia Rosett, who unveiled the oil-for-food scandal in 2004 and 2005 in The Wall Street Journal; Brett Schaefer, who regularly takes on the U.N. at the conservative Heritage Foundation; and Hillel Neuer, executive director of Geneva-based UN Watch, which monitors the controversial HRC.
Neuer told The Hill that UN Watch is going to release new data at the briefing on how the HRC has been run since then-U.N. Secretary-General Kofi Annan dissolved the Human Rights Commission in 2006. Annan called the commission "politicized" at the time, but the commission's replacement, the HRC, has attracted many critics as well.
"We will commend the efforts of the U.S. delegation here in Geneva, including [Ambassador] Eileen Donohoe" in briefing the Foreign Affairs Committee, Neuer said, saying the team is "working hard to minimize the damage of the council," but is often in the minority to powerful, controversial members such as Libya, Cuba, China, Pakistan, Russia and Saudi Arabia.
"They're the ones who run the shop," he said, adding of Obama's initiative to place a U.S. representative on the council with the intention of reforming from within that it was "naive for anyone to have thought it would change significantly."