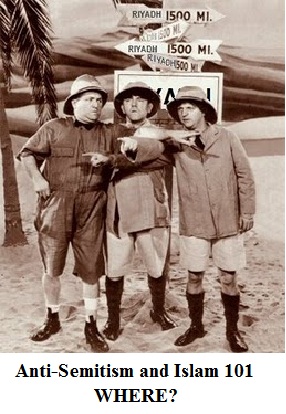 Where is the concern showed by these political hacks over how the Jews of Malmö are being denied their most basic of human rights, to walk unmolested in the streets of that city? Where is their concern over the Jews of Sweden being stigmatized for Israeli policies? Where is the concern shown by these political hacks over the participation by Swedish politicians in anti-Israel demonstrations where the flags of Hamas and Hezbollah are flown and shouts of anti-Semitism litter the air?
Islamophobia is a highly disingenuous term invented by Muslims seeking to stifle justifiable criticism of their particular ideology, by placing themselves into the role of 'victim' while they systematically carve out greater a role for Islam in society.
It's irrefutable that the OIC (Organization of the Islamic Conference) is spearheading this policy, in which they position themselves as the vanguards of the Islamic world and 'religious tolerance' in general, all the while rejecting the notion of Islamic inspired anti-Semitism. The head of the OIC told the Tundra Tabloids in 2008, and in no uncertain terms, that no Muslim good or bad, could be anti-Semitic, it's a myth, it's not the case."
So they proceed on a multi-track strategy, claiming victimhood (imaginary Islamophobia) while denying real bigotry in the form of Muslim persecution of Christians and anti-Semitism, much of it inspired by their own holy books which can be seen on a daily basis throughout the ME and Islamic world. KGS
Sweden Looks to Combat Islamophobia
Sweden's integration minister Erik Ullenhag is meeting on Thursday with representatives from the Swedish Muslim community to develop a strategy for combating Islamophobia in the wake of the Stockholm suicide bombing.
The suicide bombing in Stockholm risks resulting in suspicions being cast against hundreds of thousands of Swedish Muslims, Ullenhag writes in a debate article in the Dagens Nyheter (DN) newspaper.
He argues that it is unacceptable to blame an entire group for one person's actions.
"We who believe in the Swedish values of openness and tolerance have a responsibility to fight the Islamophobia and prejudice which can follow in the wake of terror," writes Ullenhag.
"We should never allow one individual's act to result in an entire religion being seen as suspect or having a group saddled with collective guilt."
He points out that "more than 99.9 percent" of Sweden's estimated 400,000 Muslims are not among the list of roughly 200 violent Islamic extremists in the country identified by Swedish security service Säpo.