Who said Islam wasn't a supremacist ideology? Proof of the pudding for little Afshan as her case from this past July is finally heard in court. Oh, be prepared to hear that her beating and death threats leveled at her has to do with, "cultural issues", and not Islam itself. No, Islam means "piece(s).  KGS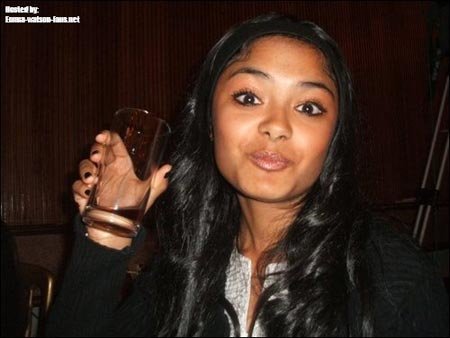 H/T Fjordman
Harry Potter actress was 'beaten and branded a prostitute by her family after dating man who was not a Muslim'
By DAILY MAIL REPORTER
Last updated at 4:32 PM on 20th December 2010
Star: Afshan Azad, 22, pictured last month at the premiere of the latest Harry Potter movie, The Deathly Hallows
A Harry Potter actress was beaten, called a 'slag' and threatened with death after she met a young man who was not a Muslim, a court heard today.
Victim Afshan Azad, 22, played Padma Patil, a classmate of the teenage wizard, in the blockbuster Hollywood films based on the children's books by JK Rowling.
She was assaulted and branded a 'prostitute' after meeting a young Hindu man, a relationship which brought anger from her father, Abul Azad, 53, and brother, Ashraf, 28, Manchester Crown Court heard.
The frightened star, who has featured in four of the popular films, later fled through her bedroom window after threats were made to kill her.
But despite attempts to get her to come to court for the trial of her father and brother, Miss Azad, who is believed to be living with friends in London, would not attend voluntarily, the court was told.
Both men were charged with making threats to kill her and her brother was also charged with assault occasioning actual bodily harm on his sister.
Instead of both going on trial today, the prosecution decided to accept a guilty plea of assault by her brother, and both men were formally found not guilty of making threats to kill.
Miss Azad's character was a witch who was in the same year as Harry Potter, played by Daniel Radcliffe, at Hogwarts School Of Witchcraft And Wizardry.