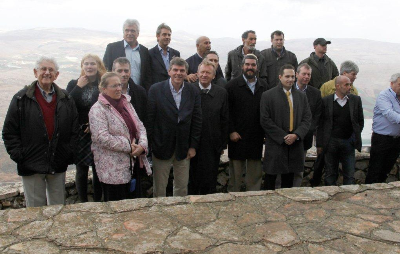 Arutz Sheva: The group included Heinz-Christian Strache, head of the German Freedom Party, who is seen as a likely candidate to become the next chancellor of Austria; Filip Dewinter of Belgium's Vlaams Belang party; MP Frank Creyelman, who heads the Belgian Parliament's Foreign Affairs Committee; René Stadtkewitz, Chairman of Germany's Freedom Party; and Claus Pandi, editor-in-chief of Krone Zeitung, the biggest newspaper in Austria.
FROM THE TUNDRA TABLOIDS' COMMENT BOX:
gedaliah:  Thank you for coming and visiting our communities. It is important to go home and speak of the front line of the war on terror and islam0fascism.
As a resident of Binyamin, just 10 minutes east of Ariel, I can say with all of my heart that the people of the Settlements are people of peace and real values which we share with Europe.
It is important to communicate to the world that we are not the enemy but your greatest friend.
As Golda Meir said once "We will have peace when the Arabs love their children more than they hate ours.."
And as you saw from coming here, we are peaceful people…
Regards!!!!