Question: Will the Arabs make him into a hero and name a street or summer camp after him? KGS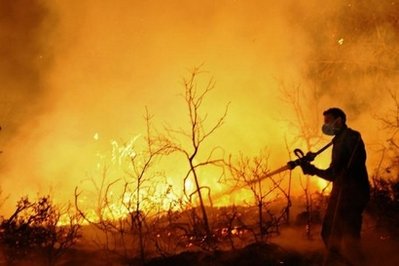 Shalon Life: A 14 year-old resident of Usfiya, a village on top of Carmel Mountain, was arrested on Monday on suspicion of unintentionally starting the Camel fire.
The boy has admitted that he was in the forest on Thursday morning smoking a water-pipe and threw the charcoal from the pipe into a forest clearing near Usfiya. He witnessed the ignition of a large fire and fled the scene and returned to his school without telling anyone about the fire.
On Tuesday morning the boy will appear before the Haifa Magistrate's Court for a remand hearing.
On Sunday two other Usfiya brothers were arrested on suspicion of starting the fire but have since been released.
Four other suspects from around the country have also been arrested on suspicion of deliberately starting smaller fires following the Carmel fire. Over 20 smaller fires were started around the country and were put out by firefighters and did not cause any injury. As of Sunday the flames have died down.
The fire which started on Thursday morning has taken the lives of 42 people, destroyed 10,000 acres of forest and over 4 million trees.