Folks, if not for Europe's insistence on flooding itself with highly anti-Semitic Muslim immigrants, European Jewry would not be feeling the pinch once again. Leftist morons and their faux conservative lackeys are to blame for the mess, they are to blame for yet another exodus of Jews from Europe. KGS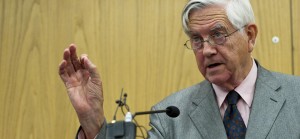 Frits Bolkestein:

Arab tv here in Europe are to blame for fanning the flames of anti-Semitism, so all you Orthodox looking Jews, help alleviate the problem, and go to America and to Israel.
NOTE: What's one to say about political leaders who are unwilling to tackle the monster that they themselves have creted?
Orthodox Jews should leave Holland because of anti-semitism: Bolkestein
Dutch News nl: Jews should consider leaving the Netherlands and going to America or Israel because of anti semitism, particularly among Dutch Moroccans, former VVD leader Frits Bolkestein told free newspaper De Pers.
Bolkestein said he sees no future in the Netherlands for Jews who stand out, such as orthodox Jews. Arabic tv senders are largely to blame for the anti-Jewish sentiment, the former EU commissioner said.