THE TURKISH PM ALSO AGREES WITH HIS PRESIDENT…….
Turkish PM Erdogan: Come to us begging on your knees and we
might forgive you, if we're in the "forgiving of dhimmis" mood that is
The Tundra Tabloids has been following this development for some time now, in conversations with Israelis, Middle East analysts and armchair pundits, and the response has been pretty much the same. Turkey is taking a completely different route in its foreign policy making decisions in its attempt to restructure itself as a neo-Ottoman state envious of past glories.
It's one of the reasons why they helped arrange the Mavi Marmara "aid ship" to Gaza and give the Israelis false assurances that they would be met with only passive resistance, when in fact they ensured that there would be IHH thugs on board waiting for them with chains, metal bars, knives and wrist rockets (high powered slingshots). They engineered the whole scenario, it was a faux "casus beli" in diplomacy in order to drive the deeper wedge between their relations.
That is the major wake-up call in the Israeli Ministry of Foreign Affairs, and no doubt, there's a current reevaluating of Israeli relations with the Turkish giant. Prudent thinking would demand it. KGS
H/T Vlad Tepes
Turkish President Says Any Cooperation Between Israel And NATO Out Of Question
Friday, 3 December 2010
PARIS (A.A) – Turkey's President Abdullah Gul said that any cooperation between Israel and NATO was out of question.
In an interview with Euronews, Gul said that the missile defense system by NATO was related to only NATO members, stating that Israel was not a member of NATO.
"Any cooperation between Israel and NATO is out of question. Israel cannot use NATO's means," he said.
Asked whether or not Turkey still considered Israel a friend and allied country after its raid on Mavi Marmara, Gul said, "Israel's raid changed many things. Israeli army attacked on an aid flotilla in international waters and killed many people. It is impossible to forget it. A country which is subject to international law and a member of the UN should have fulfilled requirements of the international law. Israel did not compensate it." President Gul said that Israel lost Turkey's friendship.
Israeli relations with Turkey symbolized in the following picture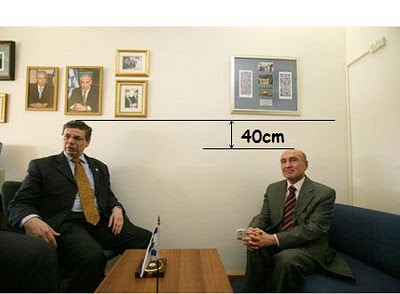 DannyAyalon