BUT HE ANSWERED RIGHT!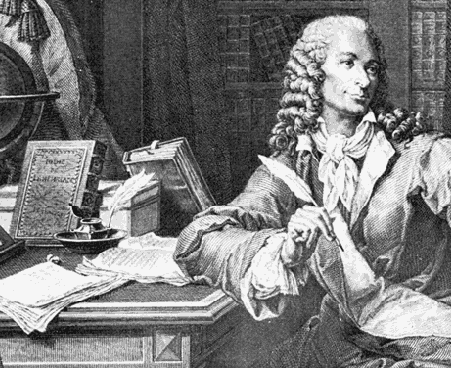 François-Marie Arouet, "Voltaire"
Voltaire:"I wish fervently that the Turkish barbarians be chased away immediately out of the country of Xenophon, Socrates, Plato, Sophocles and Euripides. If we wanted, it could be done soon but seven crusades of superstition have been undertaken and a crusade of honour will never take place. We know almost no city built by them; they let decay the most beautiful establishments of Antiquity, they reign over ruins." In this passage Voltaire refers to the brutal 500 year Ottoman occupation of Greece.
Remember folks, in this day and age, truth is not a defense. KGS
H/T Tanguy Veys
Flemish Peumans offers apology for anti-Turkish remarks
03 December 2010, Friday / HATİCE AVCI, BRUSSELS
President of the Flemish parliament in Belgium Jan Peter Peumans has offered an apology to the Turkish nation over offending remarks he made during a live quiz show on a local TV channel.
"I never intended to insult or hurt Turks. . I did not offend anyone purposely but would like to apologize to the Turkish people for the misunderstanding," he told Today's Zaman.
During the "De Pappenheimers" quiz show on the VRT channel on Sunday
Peumans, who is also a member of the New Flemish Alliance (N-VA), was asked which nation was the most disgusting on the face of earth in famous French philosopher Voltaire's opinion. From the choices presented to him, "Flemish, Jews or Turks," Peumans responded, "Turks."
"Such a question should have never been asked because each answer would be offensive. I understand the feelings and reaction of the Turks. Try the same answer with any nation and the reaction will be the same," stated Peumans, adding that he lost a lot of sleep since the show.
"When I gave the answer, I questioned why I did it. I should have not given an answer at all. I did not know the answer of the question. I am confessing it. But I had an incident in the past with the Jews. I could have said Flemish, Russians or Chinese or something else. It would not be good at that time no matter what I said. But I should not have said Turks," he noted.