---
Such behavior is totally beyond the pale…
Especially so coming from a politician. But do remember that The Helsinki based flagship newspaper, The Helsingin Sanomat, compared US president, Donald J.Trump with a pig. No doubt in my mind that its newsrooms were filled with its staff laughing about how he should be butchered like one. If the Finns politician had left it with reference to pigs, using the HS as a comparative example would have saved him, but you do not hint at violence at anybody, let alone a politician. Totally irresponsible behaviour and I'm sure Jussi Halla-aho and the party leadership have read him the riot act.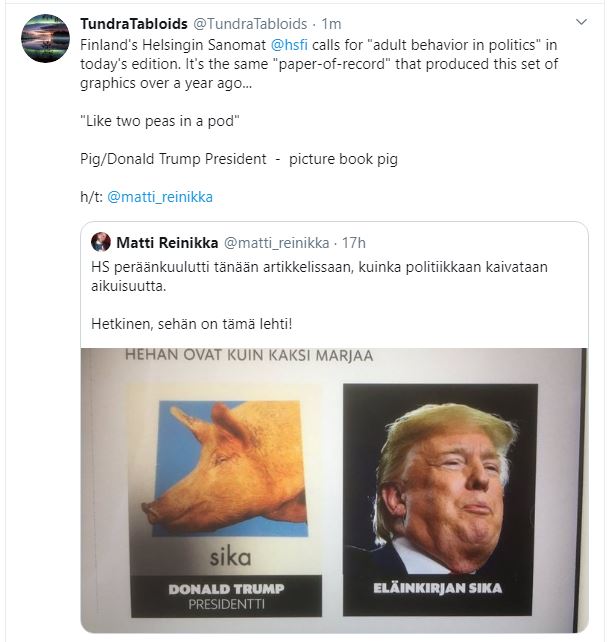 Finns city council member gave his pigs the names of two black politicians and hinted execution – leaving his place in the party council
Jarno Vähäkainu, the Central Ostrobothnian (Pohjanmaa) municipal councilor and member of the party council, will leave his place in the party council due to the uproar caused by his pig-themed Tweets.
Vähäkainu told about it on Sunday night on Twitter.
Earlier, Vähäkainu has said on Twitter that "the politics of the reds are starting to look like some will be taken behind the sauna soon" (A hint at execution). In the past, Vähäkainu has, among other things, shared pictures of two pigs and wrote that "Husu and Suldaan" are here.
The reference is obvious to the politician Abdirahim "Husu" Hussein and the Left Alliance's Suldan Said Ahmed . Among other things, Vähäkainu has called pigs "clay tonki" and "töpselinok". He has also referred to Husu and Suldan with "behind the sauna" hints.
At least one August tweet on the pig theme was still online Sunday night. On Twitter, Vähäkainu has been asked if he understands the nature of what he wrote. Vähäkainu has responded that he understands.