---
There are lots of irony in that headline…
Islam has nothing to do with Finland or being Finnish, let alone loading a Muslim holiday on 'Finland's' Day. The government officials react to public outrage over just men being represented, by claiming obfuscating and deferring to the leaders of the Islamic community who happen to be all males. They conveniently backtrack on their own stated values by submissively looking between their fingers at their own hypocrisy and mental gymnastics.
Also worth knowing, two of the imams in question have links to the Muslim Brotherhood, Annas Hajjar and Abbas Bahmanpour both made a pilgrimage to the headquarters of the Muslim Brotherhood front group, CAIR in the US. The latter jokingly tried to explain sharia enforced stoning of homosexuals on national TV.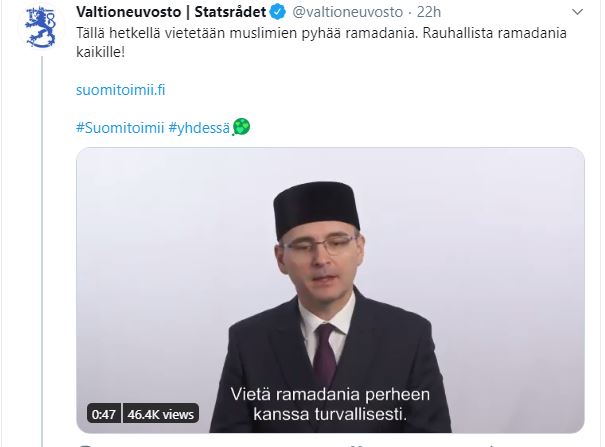 On Finland's Day, VNK published a video of the Ramadan greeting of Islamic leaders – all men: This is how the campaign commented
A video published by the Prime Minister's Office on the Ramadan greeting of the Imams has been the subject of criticism on social media.
Ramadan has begun. Actually, it started as early as the end of April and will continue until the 23rd of May. This is the month of Muslim fasting, which is the fourth pillar of Islam. Now the Prime Minister's Office has published a greeting on Twitter for the leaders of Finnish Islamic communities.
The video four imams speak. They are the Imam Ramil Belyaev, of the Finnish Islam congregation, Imam Anas Hajjar Finnish Islamic Association, Imam Abdirizak Sugulle of the Islamic Center of Helsinki and Imam Abbas Bahmanpour (Reslat Shiite) Mellunmäki Mosque.
The quartet calls for the safe conduct of Ramadan in exceptional circumstances caused by a coronavirus epidemic. Among other things, the video mentions a restriction on gatherings of ten people, which is still in force in May. They urge you to stay at home, spend Ramadan only with roommates, and keep in touch with others digitally.
However, the video has been the subject of much criticism on social media. Many find it provocative that the video was published on Finland's Day. Attention has also been paid to the fact that all the speakers are men.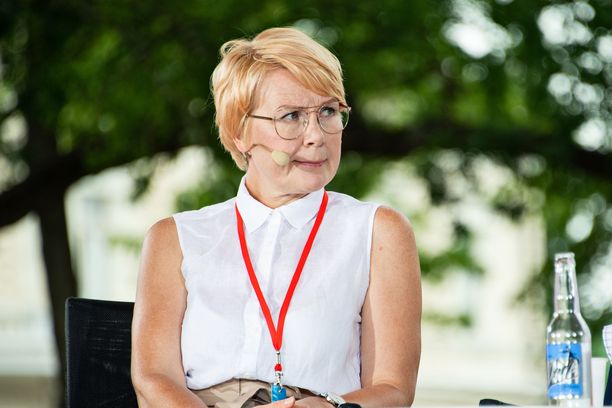 "Equality is the basis of the entire state administration. It's one of the normal values. I don't see that if we have one video, then the Prime Minister's Office would be an unequal place. I guess you could've thought about what is the balance of gender. There are quite a few places in this country where it would be good to keep this in mind," comments Päivi Anttikoski, Director of Communications at the Government.
[…]
Could the video have been searched for by a woman from Islamic communities as well?
In the Finland Works -communication campaign, we want to tell about things related to this situation ( coronavirus epidemic ), related to doing and giving people a head start. This one video can have only men, somewhere else can only have women, somewhere else both and that. This assessment cannot really be made in such a way that there are both men and women in each video.
Many interpret that the position of a woman in the Islamic religion is weaker than that of a man. Can a male-dominated video reinforce such an image?
I don't know how people think about this and what they think about these things. We sought community leaders to talk about this. In these communities, the leadership has been men. This video is part of the Finnish Works – the campaign of a wider series. One would think that Finland is a mosaic in many ways. This is one piece of it. That's why I don't judge exactly what one piece of mosaic holds inside. This becomes a whole.
Many have found it provocative that the video was published on Finnishness Day. Is the release date a coincidence?
We put this out as soon as it was finished. No release date was planned.
Some of the imams in the video have expressed sharp opinions in public. Abbas Bahmanpour, for example, has spoken in public about the death penalty for homosexuality . How did you comment?
We didn't know the person. It is clear that Finnish laws must be observed in Finland. Human rights belong to everyone .