---
UPDATE: It looks like not all traffic is being stopped, bending to the will of the Swedish government, Finland is allowing work-related travel to continue…
The government has already decided on 30. 3 . that the restrictive measures against the coronavirus will be extended until 13 May. However, the tightening at that time did not concern commuting to Sweden, which was allowed to continue without major restrictions or quarantine measures.

In Lapland in particular, people have been wondering in recent days why the Swedish border will not be closed completely.

For example, hundreds of Finnish healthcare professionals work in the Norbotten area, and when Sweden has chosen a looser corona protection policy than Finland and there is a shortage of protective equipment, Finnish nursing staff working in Sweden are considered to be the biggest corona risk in Lapland.
It's about time, this should have been done a couple of weeks ago. If the US can ban flights coming into the country from China, Finland can ban ships coming into the country from Sweden…
Government decided: Quarantine regulations for those arriving in Finland will be tightened – passenger traffic on ships will be frozen
Passenger traffic to Sweden, Estonia and Germany will end until 13 May.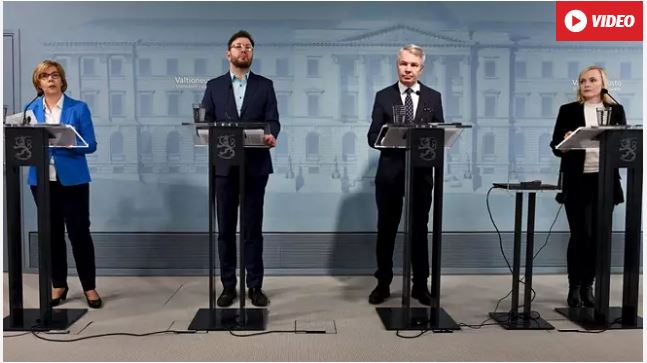 According to Interior Minister Maria Ohisalo (Green), the government has decided, as previously announced, to extend traffic restrictions at internal and external borders until 13 May. In addition, the quarantine regulations for immigrants will be tightened. As a general rule, all persons arriving in Finland across internal borders are obliged to remain in quarantine-like conditions for 14 days during their stay in Finland.
Finns working on the Swedish and Norwegian sides must be in quarantine-like conditions when they are in Finland. .
Employees coming to Finland from Sweden or Norway must also follow THL's instructions and be in quarantine-like conditions, if possible, both in Finland and at home.
Traffic volumes at the Swedish-Norwegian border have fallen by 95 percent. The majority of traffic is freight traffic.
Ship passenger traffic on ice
The government also recommends that shipping companies stop selling passenger tickets from Finland to Sweden, Estonia and Germany as of 11 April. The recommendation is valid until May 13. The recommendation does not apply to freight and freight transport.
Foreign Minister Pekka Haaviston (Green). According to the ministry, about 2,000 Finnish tourists are known abroad. The largest groups are in Spain, New Zealand, Australia and Thailand.
According to Haavisto, the embassies in Beijing and Seoul have been working on security of supply procurement. Discussions have taken place with Ukraine on seasonal agricultural workers.
The operation of the Åland Hospital will be secured
The government obliges the Ministry of Social Affairs and Health to ensure that the operations of the Åland Hospital are secured in co-operation with the Åland government. The necessary doctors will be arranged from mainland Finland to Åland, and the sufficient Swedish language skills of the incoming staff will be ensured. FinnHEMS's helicopter in Turku also serves Åland.
In addition to Ohisalo and Haavisto, the press conference was attended by Minister of Justice Anna-Maja Henriksson (r) and Minister of Transport and Communications Timo Harakka (sd).
STT