---
Reaganesque…
Donald Trump tweets in English and Farsi that he stands by the 'long-suffering people of Iran' and warns Tehran 'the world is watching' protests as thousands demand the Ayatollah RESIGN after military shot down jet and killed 176 people
President Donald Trump tweeted a message of support for Iranian protesters on Saturday, saying 'my Administration will continue to stand with you'
On Saturday thousands people gathered to protest the government
The protests broke out after Iran admitted the Revolutionary Guard accidentally brought down  Ukrainian Airlines Flight 752 on January 8 
The plane crash killed 176 people on board, 130 of them Iranian citizens 
Protesters decried Supreme Leader Ayatollah Ali Khamenei by chanting 'death to the dictator' and 'The Chief Commander of all army forces must resign'
UK Ambassador to Iran Rob Macaire was arrested and released an hour later on  Saturday for allegedly 'organizing, provoking, and directing radical actions'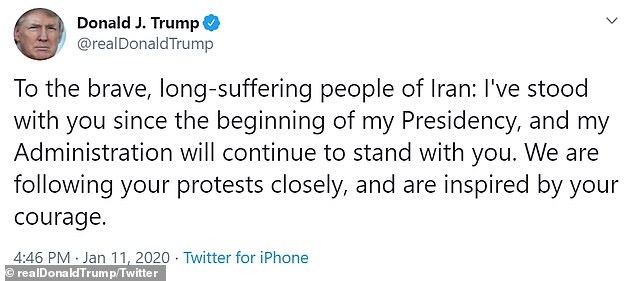 President Donald Trump tweeted a message of support for the people of Iran on Saturday evening, saying 'we are inspired by your courage' as thousands of angry demonstrators protested the regime in the streets of Tehran.
'To the brave, long-suffering people of Iran: I've stood with you since the beginning of my Presidency, and my Administration will continue to stand with you. We are following your protests closely, and are inspired by your courage,' Trump tweeted in English and in Farsi.
'The government of Iran must allow human rights groups to monitor and report facts from the ground on the ongoing protests by the Iranian people. There can not be another massacre of peaceful protesters, nor an internet shutdown. The world is watching,' he added.
His statement was a sign of solidarity with the thousands who gathered in front of the gate of the Amirkabir University of Technology near the former US embassy in Tehran to protest the government and Iran's Supreme Leader Ayatollah Ali Khamenei for mistakenly downing a civilian passenger plane.