---
Islam is a very, very bad idea…
Muhammad and the Banu Qurayza: The Bloody, Living Legacy of Islam's Willing Jew-Executioner, and Meshugga "prophet"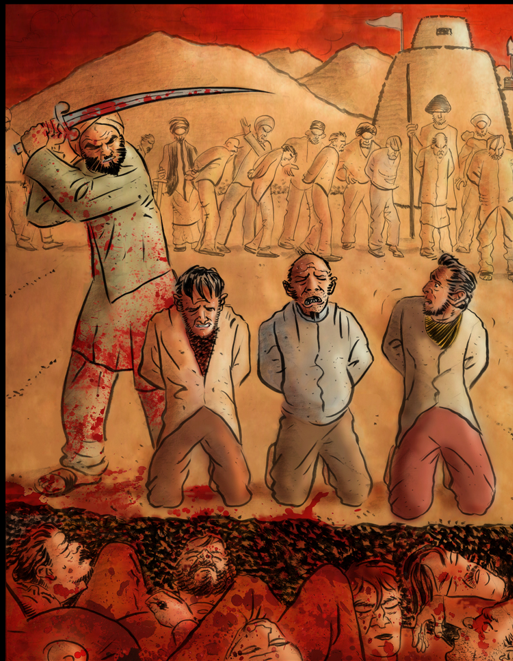 "And those of the people of the Scripture who backed them (the disbelievers) Allah brought them down from their forts and cast terror into their hearts, (so that) a group (of them) you killed, and a group (of them) you made captives."—Koran 33:26, Hilali-Khan translation [1]
"And He brought down those of the People of the Book who supported them from their fortresses and cast terror in their hearts; some you slew, some you made captive."—Koran 33:26, Arberry translation [2]
Maimonides, the "second Moses" (d. 1203), was a renowned Talmudist, philosopher, astronomer, and physician. His Epistle to the Jews of Yemen was written about 1172 in reply to inquiries by Jacob ben Netan'el al-Fayyumi, who headed the Jewish community in Yemen. At that time, the Jews of Yemen were experiencing a crisis—hardly unfamiliar to Maimonides—as they were being forced to convert to Islam, a campaign launched in about 1165 by 'Abd-al-Nabi ibn Mahdi. Maimonides offered the Yemenite Jewish communal leader guidance, and what encouragement he could muster. He makes clear that the unrelenting persecutions of the Jews by the Muslims is tantamount to forced conversion. The Epistle to the Jews of Yemen also provides an unflinchingly honest view of what Maimonides thought of the Muslim prophet Muhammad, and about Islam generally. Maimonides referred to Muhammad—Islam's prototype jihadist—as a bellicose "ha-meshugga," "Madman," whose objective was "procuring rule and submission," whereby "he invented his well known religion." The Hebrew term, ha-meshugga, as historian Norman Stillman has observed wryly, was, and remains, "pregnant with connotations." [2a] Indeed per Maimonides, Muhammad's mindset, and the actions it engendered, had immediate, and long term tragic consequences for Jews — from his massacring up to 24,000 Jews, to their chronic oppression — as described in the Islamic sources, by Muslims themselves. [2b] Moreover, fearing the widely prevalent doctrinal fanaticism of the Muslim masses, Maimonides cautioned Jews never to teach Muslims Torah, to avoid being accused by their Muslim interlocutors of blasphemy and punished; in contrast Maimonides had no such reservations about Jews teaching Torah to "the uncircumcised," that is, Christians. [2c]
[I]t is permitted to teach the commandments and the explanations according to [rabbinic] law to the Christians, but it is prohibited to do likewise for the Muslims. You know, in effect, that according to their belief this Torah is not from heaven and if you teach them something, they will find it contrary to their tradition, because their practices are confused and their opinions bizarre mippnei she-ba'uu la-hem debariim be-ma`asiim [because a mish-mash of various practices and strange, inapplicable statements were received by them]. What [one teaches them] will not convince them of the falseness of their opinions, but they will interpret it according to their erroneous principles and they will oppress us. [F]or this reason . . .they hate all [non-Muslims] who live among them. It would then just be a stumbling block for the Israelites who, because of their sins, are in captivity among them. On the contrary, the uncircumcised [Christians] admit that the text of the Torah, such as we have it, is intact. They interpret it only in an erroneous way and use it for purposes of the allegorical exegesis that is proper to them Ve-yirmezuu bah ha-remaziim hayyedu`iim la-hem [They would exchange secret signs known only to them]. If one informs them about the correct interpretation, there is hope that they will return from their error, and even if they do not, there is not a stumbling block for Israel, for they do not find in their religious law any contradiction with ours.
Fast forward almost 850 years to Friday, October 9, 2015. Brandishing a knife, Gaza cleric Sheikh Muhammad Sallah "Abu Rajab"'s sermon at the Al-Abrar Mosque in Rafah, explicitly fomented [3] murderous knifing attacks on Israeli Jews as sanctioned by Muhammad's actions towards the Jews of the Khaybar oasis, and the Medinan Jewish tribe, Banu Qurayza [4]. "Abu Rajab" further invoked [5] the murderous verdict, and even ghost-like spirit, of Muhammad's vindictive "arbiter" against the Qurayza, Sa'd b. Mu'adh [6].
The soldiers of the Prophet Muhammad are here. Brothers, this is why we recall today what Allah did to the Jews. We recall what He did to them in Khaybar….Now, we are imposing a curfew with daggers, and in the next phase, which is Allah willing, about to be realized… We shall not send you back to Russia, Bulgaria, the Ukraine, or Poland. We shall not send you back there. You have come here… The Islamic military court has ruled… This court, presided over by the Prophet's Companion Sad Ibn Mu'adh, has ruled… Sa'd Ibn Mu'adh has reappeared – in the West Bank. Sa'd Ibn Mu'adh is now in the streets of Jerusalem, Afula, Tel Aviv, and the Negev. The Islamic military court has made the divined ruling: You will get nothing in our land except for slaughtering or stabbing. Why? The world will say that we are terrorists, that we incite. Yes! "Oh Prophet, sufficient for you and for whoever follows you of the believers is Allah. Oh Prophet of Allah, incite the believers to fight." Oh people of Al-Abrar Mosque and the people of Rafah – from this mosque of yours, you have the honor of delivering these messages to the men of the West Bank: Form stabbing quads. We don't want just a single stabber. Oh young men of the West Bank: Attack in threes and fours. Some should restrain the victim, while others attack him with axes and butcher knives.[…]Do not fear what will be said about you. Oh men of the West Bank, next time, attack in a group of three, four, or five. Attack them in groups. Cut them into body parts.