---
Bruce Oreck was not at the time of Trump's election victory the US's ambassador to Finland, but he was still in the country, representing the worst case of "clientitis" that you could imagine.
The self-aggrandizing (using his position as ambassador to further his business career once he left office) former ambassador was a major contributor to the Obama re-election campaign, donating with his wife in total $500 000, plus a $100 000 for the inaugural ball. Proof of Oreck's development of Finnish business contacts could be assumed by his immediate taking up residence in the country after leaving office.
He had the following to say to the Finnish media upon Trump's election victory in 2016: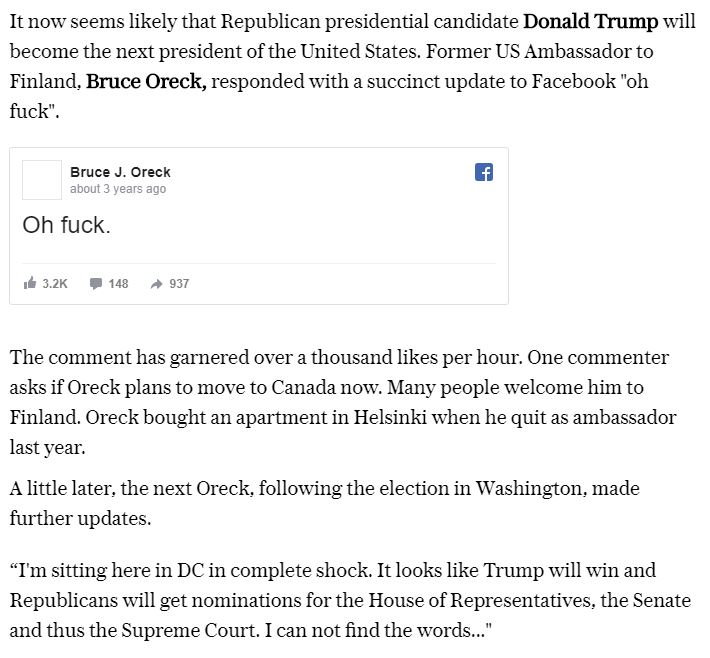 From Menaiset.fi 9.11.2019
Helsinki Times: (Just after leaving office)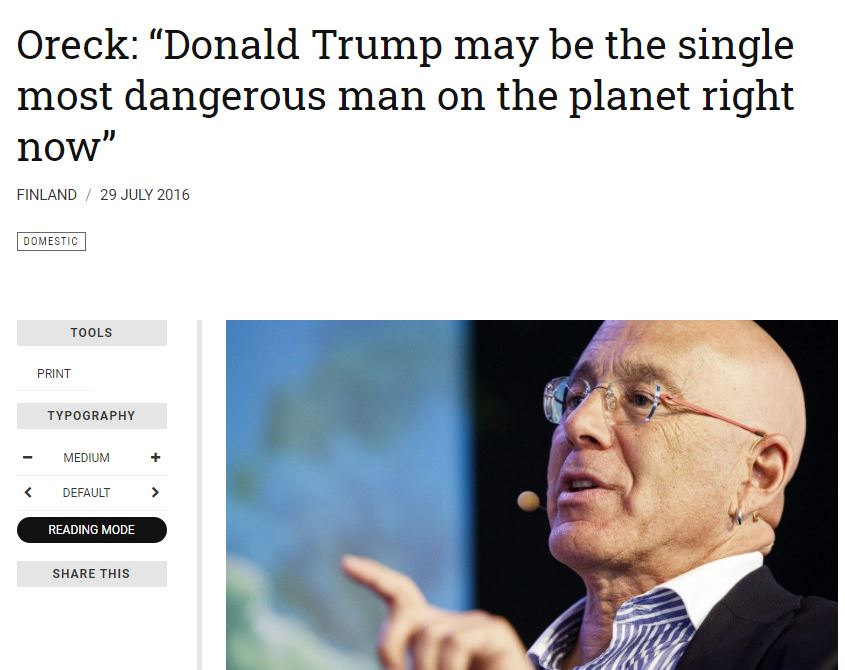 "Donald Trump is ill-equipped to serve as the President of the United States," says Bruce Oreck, a former US Ambassador to Finland.

"Donald Trump may be the single most dangerous man on the planet right now," says Bruce Oreck, a former US Ambassador to Finland.

Oreck, who is currently an executive in residence for the Aalto University School of Business, was asked by Uusi Suomi to comment on the request of the Republican Party's presidential nominee that Russia dig up the tens of thousands of e-mails his rival candidate, Hilary Clinton, reportedly did not hand over during an inquiry into her tenure as the US Secretary of State.
Bruce Oreck: "Donald Trump supporters want to go back to the 1950s, when the world belonged to white men only"
The elections have severely split the United States. "Ordinary Americans are already completely tired of disgusting campaigning and hope that all this will end," says Bruce Oreck, former US Ambassador to Finland
"After the elections, US society will inevitably change. The main reason for this change is demographics: the US will become a more multicultural and tolerant society as the older and more conservative generation retires or dies.

So says Bruce Oreck, former US Ambassador to Finland in an interview with Talouselämä .

Oreck, 63, served as US Ambassador to Finland from 2009 to 2015. He supported Barack Obama in his election campaign and is also a supporter of Hillary Clinton . Oreck still lives in Finland, teaches at Aalto University and works with startup companies. He is also a popular speaker.
This all proves beyond a shadow of a doubt, in my opinion, that an incoming president needs to make a clean sweep in the diplo corps upon assuming office. Imagine all the holdovers left from the Obama years who carry the same sentiment as this jackass. President Trump was correct and well within his rights to pull Yovanovitch from her spot in the Ukraine. She's a holdover from the Obama administration and not the right person for the job there.