---
The Finnish president has no problem with rubbing elbows with Holocaust-denying Larijani as well…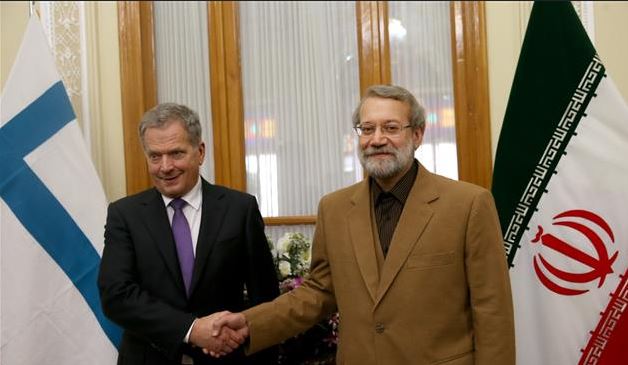 Garry Kasparov, a human rights advocate and arguably the greatest chess player of all time, recently wrote on Twitter in connection with his Washington Post obituary about Soviet dissident Vladimir Bukovsky that "He understood better than anyone [that] you could not negotiate with evil.
How the German Green party made Iranian antisemitism politically correct – analysis
Green party Bundestag Vice President Claudia Roth zealously greeted the speaker of Iran's ersatz parliament, Ali Larijani.
 The 
German
 Green Party was plunged into its most devastating antisemitism scandal in October, over its vice president's mainstreaming of a senior Iranian politician who denies the Holocaust and seeks the destruction of the Jewish state.
The antisemitism scandal came as Germany's best-selling paper, Bild, ran an extraordinary series of articles and an editorial ("Shame on the Bundestag") exposing Green Party Bundestag Vice President Claudia Roth's zealous greeting of the speaker of Iran's ersatz parliament, Ali Larijani.
The Green Party reaction was to hit back against Bild and other critics – without any asking of tough questions regarding whether the Party courting of Tehran over the decades has contributed to making Iranian regime-sponsored antisemitism and Holocaust denial socially and politically correct in Germany and Europe.
In a series of questions on Twitter, the CEO of the American Jewish Committee, David Harris, asked Roth: "Why do you, as a VP of German Parliament, meet w[ith]/ a Holocaust-denying, Israel-hating Iranian leader? Why do you, as leader of the 'progressive' Green Party, so joyfully chat w[ith]/ the rep[resentative]. of such a brutal Iran regime? Have you no shame?"