---
Iran loves the JCPOA deal, it ensures that eventually, they will get the nuke weapon…
The Iranians are irate that the JCPOA is in great danger of total collapse and that sanctions against its regime will tighten even more to the point of their (Iranian regime's) capitulation. It definitely underscores Ceren's and Weinthal's observations.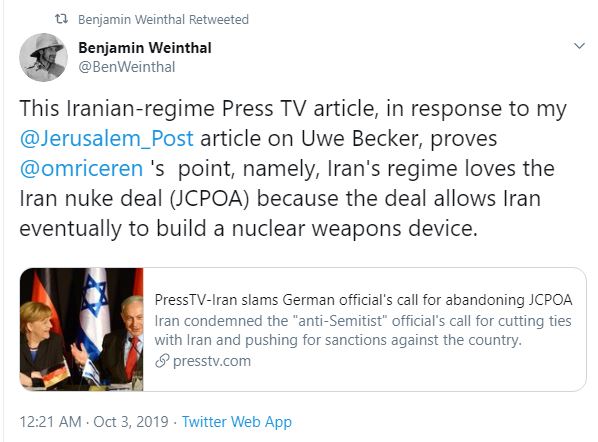 "Iran and the other signatories of the JCPOA — the UK, France, China, Russia and Germany — have been struggling to salvage the deal after the US abandoned it in May 2018."
Iran lambastes Germany for supporting Israeli crimes
Iran has censured Germany for supporting the Israeli regime in its crimes in Palestine, Lebanon and Syria, calling on Berlin to stop turning a blind eye to the realities of the Middle East region.
In an online statement on Wednesday, Foreign Ministry spokesman Abbas Mousavi condemned a Tuesday statement by the German Federal Foreign Office that underscored the German government's support for the Tel Aviv regime and called for Iran's "practical steps to de-escelate tensions" in the region.
The German statement was issued in reaction to remarks made by the chief commander of Iran's Islamic Revolution Guards Corps (IRGC), who said on Monday the Israeli regime is on its path toward collapse.