---
I don't care who the voice is, as long as they are not calling for immediate violence against another human being, they shouldn't be banned. It's not less speech that should be sought, but more speech to win the case against the crackpots…
Conservatives React to Facebook Blacklisting of Paul Joseph Watson, Others
Conservatives took to social media to defend several prominent personalities who were labeled "dangerous" and permanently banned on Facebook and Instagram. The recent blacklisting signified what many conservatives described as an advancing normality of censorship perpetrated by Silicon Valley overlords.
"The purposeful & calculated silencing of conservatives by @facebook & the rest of the Big Tech monopoly men should terrify everyone," tweeted Donald Trump Jr., "It appears they're taking their censorship campaign to the next level. Ask yourself, how long before they come to purge you? We must fight back."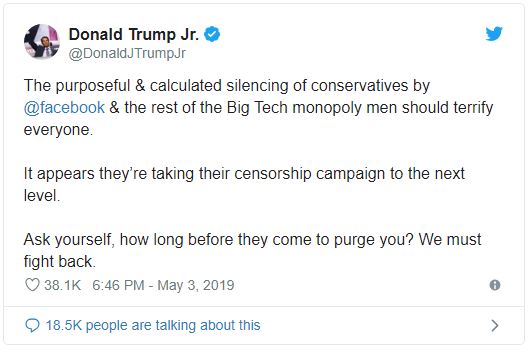 "The 'who cares if whackos get banned from Facebook' are the same suck-ups who thought the Covington kids smirked and Kavanaugh shouldn't be on SCOTUS if Ford was telling the truth. They think they'll be eaten last. They won't," said political commentator Julie Kelly.
"Same loser Conservative Inc that has ignored Leftist tyranny on campus, in corporate board rooms, in major media outlets, in Hollywood," added Kelly, "Bumper sticker platitudes that have no attachment to reality or a realization what's at stake."