---
It's more than likely the case.
It goes to show, however, that someone was thinking about sending a rough response but was talked out of it by someone else. The ever observant and impressive Jussi Halla-aho, states the following on Twitter:
CMI's crisis management skills are at the level required by the crisis resolution organization.
According to CMI, stern message to the Israeli journalist was a mistake
The message was related to the news about SDP MP Hussein al-Taee's Facebook posts.
Conflict Resolution Organization CMI on Twitter tells that the message received by email the Israeli journalist has been a mistake.
What's in question is a story by the Jerusalem Post, which dealt with the terrible social media writings of the SDP's new MP Hussein al-Tae.
Ben Weinthal, a journalist at the Jerusalem Post, who asked al-Taee's employer CMI, about "whether al-Taee is an antisemite and is he going to be fired".
– Are you sure that you want to correspond like this and with such a tone, CMI's communications director  Elina Lehtinen stated.
CMI is redirecting it to Twitter (below). According to it, Lehtinen's message was in Finnish and meant for CMI's communication and manager. It was accidentally sent to Weinthal.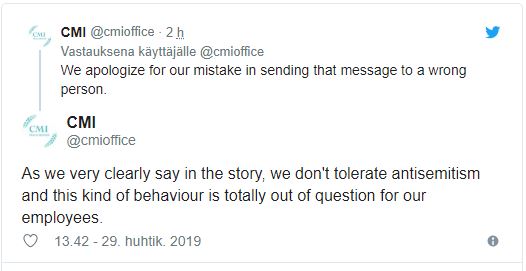 CMI apologizes on Twitter for sending the message, reiterating that it does not tolerate anti-Semitism and states that such use is not tolerated by its employees.