---
Tip of the iceberg…
IS Report: More than half of convicted sex offenders in Helsinki and Oulu are foreigners
IS received demographic information on the nationalities and countries of birth of those convicted in the 2018 District Courts of Helsinki and Oulu.
The nationality and country of birth data received by 

IS

 refer to the fact that the share of foreign offenders of sexual offenses may be even higher than previously known. 
The report included the criminal convictions of the Helsinki and Oulu District Courts in 2018. They were accused of over a hundred suspects, 82 of whom were found guilty. 
As many as 43, or more than half, were of foreign origin. There were 39 ethnic Finns. 
The difference was born in Helsinki, where foreigners were convicted.
The Difference was in Helsinki, where 40 of foreign backgrounds were sentenced. There were 31 ethnic Finns. In Oulu the order was reversed: eight convicted Finns and three with foreign backgrounds.  (TT: Thus far)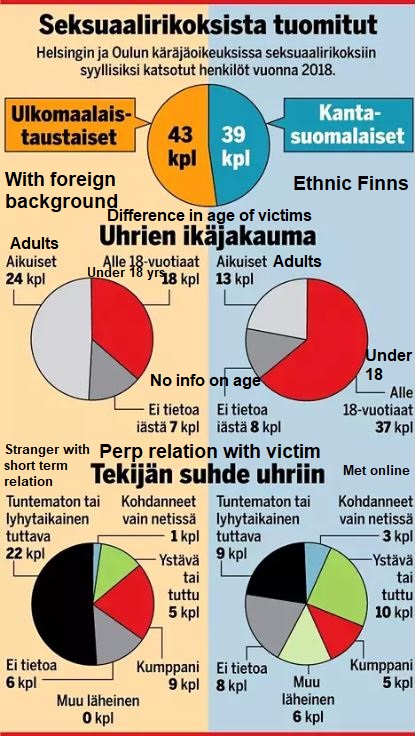 THIS
 year, the relationship may also change in Oulu if the perps in suspected sexual offenses in late 2018 result in convictions. There are twenty men with an immigrant background.
In the IS report, people who were born outside of Finland or who are nationals of a country other than Finland were counted as foreigners. The second or third generation immigrants were not considered here. 
The data come from the population register. In principle, they are not public, but the Population Register Center (CGR) provided the information to Ilta-Sanomat under a data protection law for journalistic purposes.