---
And no, an FP article using anonymous sources claiming it's over Trump being miffed over her critical tweets is no proof whatsoever.
This is actually hilarious, and YLE, flacking for their (hack) journo runs the following headline, "US pulls award to Yle journalist over Trump critique" in spite of it being but a "he said-she said" scenario. There is no quantitative data proving beyond a shadow of a doubt that what the FP article is stating is factual, it's nothing but hearsay that the state broadcaster YLE is running as factual news. That's a prime example of 100% #FakeNews.
Yes, the sub-headline states the other side's version, but the Headline itself is what sets the pace of the article, that is where is should state the conflicting versions of the story. This is what passes for modern-day "journalism" and they dare lecture us.
Here she is on Twitter (I'm blocked by her btw) whining over her turn of events: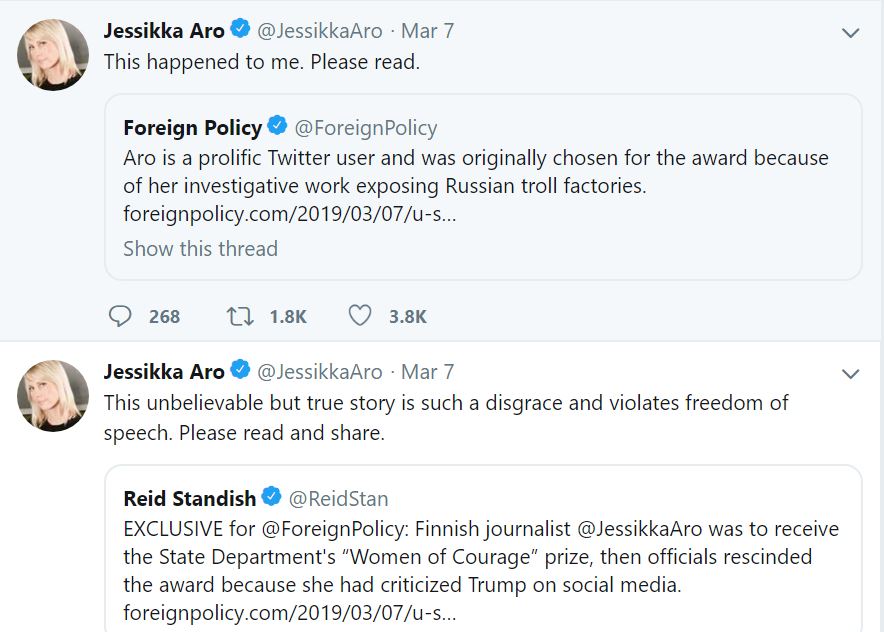 Cry me a river. You supposed "journalists" use the most questionable of tactics and ethics in writing up stories, then cry foul using questionable sources to prove your supposed "victimhood". Here's to laughing out loud.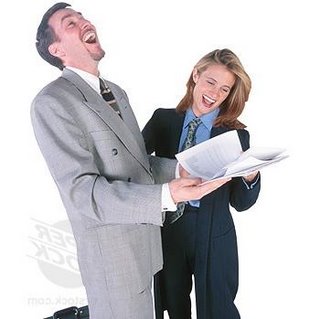 Hey Aro, you want a real legacy? Dig into the Islamonazi network embedded in Finnish society. The Muslim Brotherhood-Leftist nexus. Your "troll farm" exposé will pale in comparison. But you won't, because real threats lie ahead for anyone who starts picking at that festering scab
US pulls award to Yle journalist over Trump critique
The US State Department said that Aro had been "incorrectly" notified that she would receive the prize.
Yle investigative journalist Jessika Aro will not receive the International Women of Courage Award in Washington after having been told by the US State Department, which grants it, that she would receive the award.
The award was to have been presented by US Secretary of State Mike Pompeo but the State Department announced that Aro had been "incorrectly" notified that she would receive the prize, according to US online news publication Foreign Policy which broke the story.
Aro had been formally invited to the award ceremony by the US State Department's Office of the Chief of Protocol in February. Officials later said that she had been nominated for recognition by the US Embassy in Helsinki.
The news magazine added that officials said that the error was caused by "a lack of coordination in communications with candidates and our embassies".
However the outlet spoke with US officials who suggested a different narrative, according to which Aro was effectively disinvited because of her sharp criticism of US President Donald Trump on Twitter.
Sources also pointed to the Trump administration's reluctance to hire experts who had previously denounced the Republican candidate during the 2016 election campaign.
Death threats, offensive messages
Aro told Foreign Policy that she had been caught off guard by the decision to cancel the award.
"[When] I was informed about the withdrawal out of the blue, I felt appalled and shocked," Aro told FP. "The reality in which political decisions or presidential pettiness directs top U.S. diplomats' choices over whose human rights work is mentioned in the public sphere and whose is not is a really scary reality."
Aro is an award-winning journalist who has written exposés about Russian troll farms and their attempts to influence online discourse. Her work landed her in the crosshairs of Finnish anti-immigrant website MV-lehti and its founder Ilja Janitskin.
Last October Janitskin was sentenced to 22 months in prison and was also fined along with two other defendants for a welter of charges including aggravated definition and aggravated incitement against an ethnic group.
Aro, who had also written extensively about MV-lehti, received death threats, offensive messages and threats of sexual violence, prompted by articles posted on Janitskin's site.
Janitskin recently announced a bid for election to the Finnish Parliament during elections due on 14 April, as well as for the European Parliament in elections scheduled for May. He will run on the ticket of the Seven Star Movement, established by long-time Finnish politician Paavo Väyrynen.