---
We need more books like this…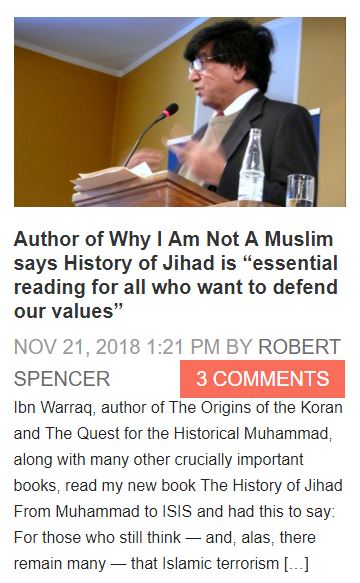 For those who still think — and, alas, there remain many — that Islamic terrorism has emerged only in the last forty years or so, The History of Jihad From Muhammad to ISIS, Robert Spencer's carefully researched work on jihad from the beginning of Muhammad's political and prophetical career to the acts of terrorism of September, 11, 2001, will be a salutary shock.

Robert Spencer has been telling, and warning, us of the activities of the jihadists at his website Jihad Watch since 2003. Every single day for fifteen years now, he has kept a vigilant eye on all the barbarisms of the Islamic terrorists, and is surely the best informed and almost the only truly qualified expert capable of analyzing the phenomenon of jihad throughout history. On so many sad occasions when he was not taken seriously enough, Spencer was forced to remind us, "I told you so." It is time to listen to Robert Spencer.

It will not be at all easy to refute Spencer's latest book, since he, for the first three Islamic centuries, relies almost entirely on the Arabic sources, that is Muslim historians and scholars, such as Ibn Ishaq, Al-Tabari, Ibn Sa'd, Bukhari, Tirmidhi, and Muslim, who paint a grim picture of the early Islamic conquests.