---
The case is so complex? Not if you follow the facts and are independent and clear-minded in thinking…
Tommy Robinson: Contempt case referred to Attorney General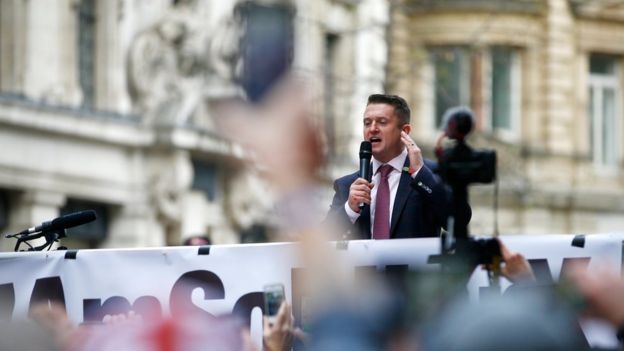 Mr. Robinson appeared at the Old Bailey on Tuesday, facing an allegation that he had committed contempt by filming people before a criminal trial.
But within minutes Judge Nicholas Hilliard QC ruled it needed to be referred up for further consideration.
The 35-year-old appeared under his real name, Stephen Yaxley-Lennon.
Hundreds of supporters and opponents were outside for the hearing.
Why was he in court?
In May 2017, Mr Yaxley-Lennon filmed four men outside a court, who were later convicted of gang-raping a teenage girl.
The trial was subject to reporting restrictions, and a judge at Canterbury Crown Court gave him a three-month suspended sentence for contempt of court.
In May 2018, he was jailed for potentially prejudicing a court case after broadcasting on social media outside Leeds Crown Court.
He was sentenced to 13 months – 10 months for the contempt of court in Leeds and a further three months for breaching the previous suspended sentence.