---
The rotten fruits of Islam…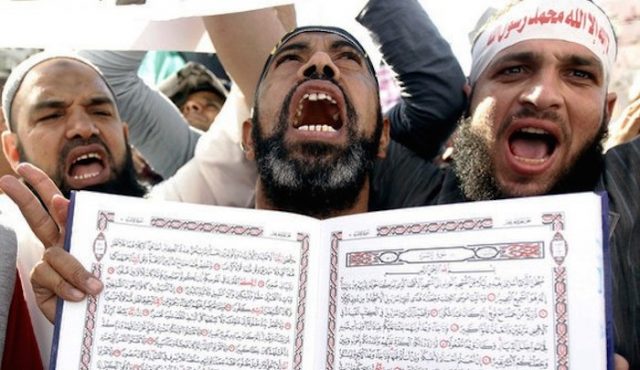 Inherent Islamic Jew-hatred has theological backing throughout Islamic texts. The go-to book on this phenomenon is of course by Dr.Andrew Bostom, The Legacy of Islamic Antisemitism
"Death to America, Death to Israel, Curse the Jews, Victory to Islam," is the slogan printed on small cards handed out at Sana'a University in Yemen. Nadwa Dawsari, a specialist on conflict and tribes in Yemen, posted a photo of a laminated "student and staff ID" on October 9 on Twitter.
'Curse the Jews,' Yemen's Houthi Rebel Slogan Handed out at University
SETH FRANTZMAN
Jerusalem Post
OCTOBER 10, 2018
The slogan has been used for years according to Dave McAvoy, a security and risk analyst who tracks developments in the region.
"It's an integral part of their propaganda and chanting. It's the Houthi slogan," says McAvoy.
The Houthis are a Yemeni rebel group that conquered Sana'a and almost took control of Aden in 2015, threatening the country's most important cities. A Saudi Arabia-led alliance has been fighting the rebels since then. The Houthis are backed by Iran and have fired ballistic missiles at Riyadh. In recent years they have increasingly incorporated anti-Israel rhetoric into their speeches, as part of the growing network of Iranian-backed groups in the region, such as Hezbollah, that is obsessed with fighting Israel.
The Houthis have incorporated the antisemitic "curse the Jews" slogan into their chants as well.
"They chant it at their marches. They shout it in their combat videos and they hold signs which read it," says McAvoy.
The hatred of Jews and singling out of Jews is specific to the Houthis. McAvoy points out that while the Iranian regime often includes the chant "death to America, death to Israel," in rallies, the Houthis pioneered the fuller version targeting Jews. They put the slogan on their flags. The website Al-Bawaba pointed out last year that "oddly enough, the Houthis have denied that they have any issues with Jews."
However, Yemen's information minister in 2017 indicated that the fate of the last few dozen Jews in Sana'a was unclear after the Houthi offensive targeted the city. Jews fled Saada in 2009 when the Houthi rebels first began gaining control of areas in the mountains.
The slogan appears online in Arabic often at accounts that support the Houthis in Yemen. We found 47 tweets on October 10, not a large number compared to trends on Twitter, but given the limited number of accounts tweeting in Arabic about Yemen, it is clearly a visible slogan on social media. The tweets included propaganda showing Houthi forces, and also starving children in Yemen. The anti-Houthi coalition has been blamed for causing famine in the country, and the US and other countries are blamed for supplying weapons to the coalition.