---
Imagine the outrage that would ensue if a school had allowed pictures of Muslim politicians juxtaposed with the word jihad/terrorism…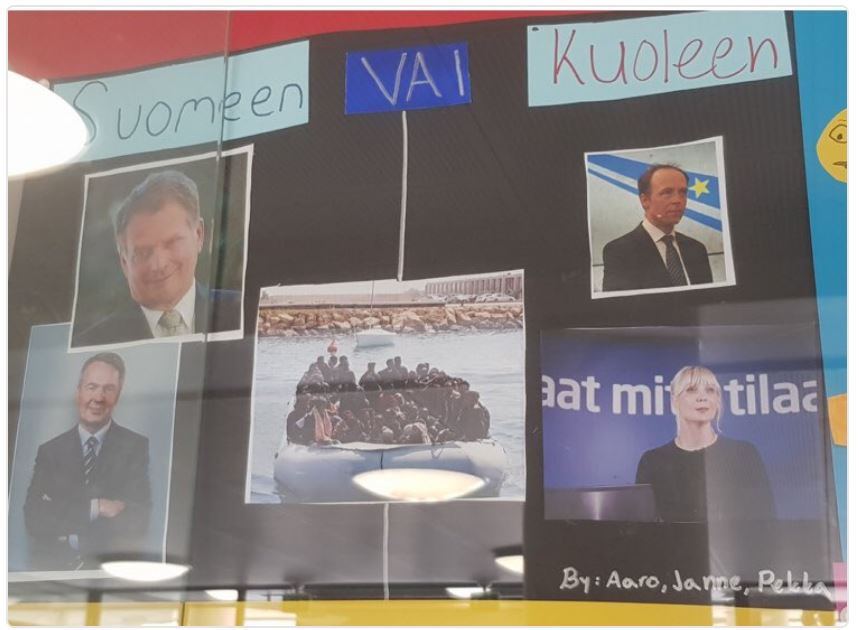 Director upset
In a different case that has caused social media uproar recently, Tampere regional education director Kristiina Järvelä condemned a tweet posted by Finns Party MP and vice chair Laura Huhtasaari on Sunday, daily Aamulehti reports.
The tweet featured a photograph of a secondary school poster project that was put together by teens studying activism and political commentary. The poster represented President Sauli Niinistö and Greens MP Pekka Haavisto on one side of a photo of a boatful of migrants, with the text "Suomeen" (to Finland), which indicates that those politicians were seen in the project to be pro-immigration. On the other side of the photograph in the poster were photos featuring Finns Party chair Jussi Halla-aho and Huhtasaari under the text "kuoleen" (death), suggesting the viewpoint that anti-immigration politics cause deaths.
Aamulehti reports on the newest in the story, writing that a guard had to be placed at the school due to the large number of threats sent to the school following the tweet.
Director Järvelä strongly criticised Huhtasaari.
"Provoking and polarising are part of the lives of 15-year-old children. If youths were not outspoken and did not question the actions of adults, the future would be hopeless. I would not stand for any kind of pre-censorship that would allow students to only speak out in a certain way. Everyone working at the school considers the poster to be provocative and even a little amusing. It is the provoked person in this instance whose intentions are relevant here," Järvelä said.
Järvelä also called Huhtasaari's accusation that teachers brainwash students to be "unacceptable".
"I cannot condone using the work of minors as a hobbyhorse for political ambitions or for misrepresenting the context in question," Järvelä said.