---
How anyone could think to shell out cash to, let alone listen to this limousine marxist bloviate on any given subject is way beyond me.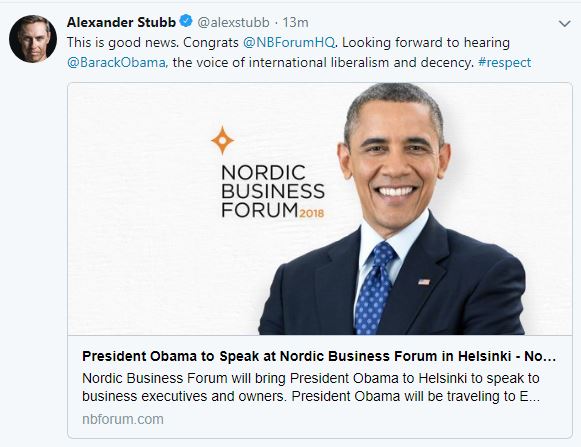 The worst US president in US history, Barack Obama, to speak Helsinki this Fall… Picking up where serial pervert/accused rapist Bill Clinton left off. He'll be the toast of the town, he can rub elbows with bagman former US amb. Bruce Oreck who's still here…
President Barack Obama will arrive in Helsinki in the autumn
Barack Obama will speak in September in Helsinki.
Former US President Barack Obama is slated to speak at the Nordic Business Forum on 26-27 September. 2018 in Helsinki.
President Obama will close the two-day event.
The theme of the Nordic Business Forum 2018 event is strategy, performance and artificial intelligence.
In addition to President Obama, the founder and CEO of the Whole Foods Market, John Mackey , the Alpine Skiing Olympic Champion Lindsey Vonn , the founder of Strategos Gary Hamel , social psychologist Amy Cuddy , Don Tapscott , MIT Initiative, Andrew McAfee, Founder of Digital Economy and writer Susan Cain .