---
"Tommy this, an' Tommy that …an' Tommy go away"
by Mark Steyn
Steyn on Britain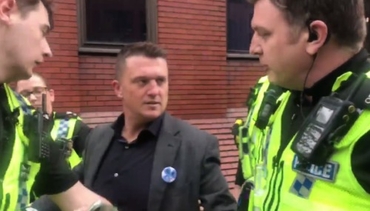 On Sunday morning I had the pleasure of appearing with Rowan Dean and Ross Cameron on their Sky Australia show, "Outsiders", to talk mainly about the Obama Administration's attempt to subvert the Trump campaign in the 2016 US election, and in particular the remarkable Anglo-Australian contribution to that effort. (You can view our exchange here – and/or listen to it here, starting about 17 minutes in).
But, just before I came on (about 15 minutes in), Rowan and Ross addressed recent events in the United Kingdom and in particular the fate of, er, someone whose name they weren't permitted to mention but who, um, had been gaoled for, er, something or other… This was somewhat astonishing to me, as I'd assumed empire-wide D-notices had lapsed with the passage of the Statute of Westminster. But mein hosts circled back, cautiously, to the topic toward the end of my interview – and I observed, as I have before, how in almost the entirety of the western world, whenever anyone draws attention to some of the more problematic aspects of Islam, the state cracks down not on the problematic aspects, but on the guy who draws attention thereto. In Britain and Europe, we are an incident or two away from literally "shooting the messenger".
Rowan, Ross and I all knew we were referring to a gentleman by the name of Tommy Robinson. I expect many of you know that, too. But I doubt most Australian viewers had much of a clue about it, and I'm pretty certain the overwhelming majority of his fellow Englishmen are unaware of his fate. As readers may recall, I have met Mr Robinson just once, at an event at the European Parliament in Brussels. He is an engaging, charismatic fellow, albeit a bit rough-hewn for the refined sensibilities of the metropolitan media – although I thought he had the better of a rather somnolent Jeremy Paxman in this BBC interview.
On Friday, Robinson was livestreaming (from his telephone) outside Leeds Crown Court where last week's Grooming Gang of the Week were on trial for "grooming" – the useless euphemism for industrial-scale child gang rape and sex slavery by large numbers of Muslim men with the active connivance (as I pointed out to the Sky guys) of every organ of the state: social workers, police, politicians. Oh, and also the media. Me last year, on my time in a certain municipality about thirty miles south of Leeds:
Tracking down the victims of Rotherham required a bit of elementary detective work on my part, but it's not that difficult. What struck me, as my time in town proceeded, was how few members of the British media had been sufficiently interested to make the effort: The young ladies were unstoppably garrulous in part because, with a few honorable exceptions, so few of their countrymen have ever sought them out to hear their stories.
You can say a lot of things about Tommy Robinson, but he's one of the embarrassingly small number of Britons who recognizes the horror inflicted on those young and vulnerable girls on the receiving end of "diversity" and seeks to do something about it.
So on Friday he was outside the Crown Court in Leeds. He was not demonstrating, or accosting or chanting, or even speaking. He was just pointing his mobile phone upon the scene from a distance. Within minutes, seven coppers showed up in whatever they use instead of a Black Maria these days, tossed him inside it and drove off. In other words, these were not "investigating officers" called to the scene: They showed up with the intent to take him away. Within hours, he was tried, convicted and gaoled – at HM Prison Hull, a Category B chokey, or one level below maximum security. The judge in the case, one Geoffrey Marson, spent all of four minutes on trying, convicting and sentencing Robinson. It is not clear whether that leisurely tribunal included his order expressly forbidding "any report on these proceedings" (the case is Regina vs Yaxley-Lennon because that's Robinson's real name).
NOTE: Picture is from Brussels referred to in Steyn's piece taken by myself.