---
Islamonazi…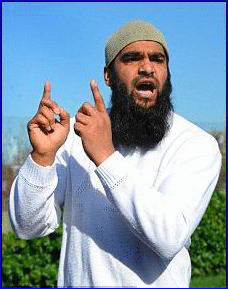 Pictured: ISIS fanatic who was shot dead by French police after shouting 'Allahu Akbar, I'll kill you all' and murdering three people in supermarket siege
The Moroccan stormed a Super U supermarket in Trebes, south west France, and took hostages this morning
Woman who lived with the gunman has been detained for questioning, said country's top terror prosecutor
After an hours-long standoff special police forces descended on the shop and shot suspected jihadist dead
Fanatic, armed with a gun, knives and a grenade, had hijacked a car, killing a passenger and injuring the driver
The gunman, named as Redouane Lakdim, 26, then shot at officers and injured one in the city of Carcassonne
That police officer is now fighting for his life in hospital and 16 victims were wounded, two of them seriously 
He then drove to supermarket and shouted 'Allahu Akbar, I'll kill you all' before killing a worker and shopper
Lakdim also demanded the release of Salah Abdeslam the last surviving suspect in 2015 ISIS attack in Paris  
ISIS gunman and drug dealer Radouane Lakdim, 26, held shoppers at gun point at a Super U shop in Trebes, France
The ISIS fanatic shot dead by police in France after he killed three people in a gun rampage and supermarket siege has been pictured for the first time.
The lone extremist, armed with a gun, knives and a grenade, hijacked a car, shot its passenger in the head and fired at police officers in Carcassonne, south west France, before driving to a Super U shop in Trebes and taking hostages.
After screaming 'Allahu Akbar, I'll kill you all', the Moroccan Islamist, named as 26-year-old Lakdim, killed a butcher and a shopper while terrified customers either fled from the store or hid in a cold room.
During the siege, during which 16 people were wounded and two seriously hurt, Lakdim demanded the release of Salah Abdeslam, 28, the last surviving suspect in the 2015 ISIS attack in Paris that left 130 dead.
But after an hours-long standoff, special police units converged on the scene and stormed the supermarket, where 50 people had been shopping when the attack began.
President Emmanuel Macron this afternoon called Lakdim's rampage a 'terrorist act', the first to hit France since he became leader in May.
French investigators said the man was known to intelligence services and had been flagged in a database of radicalised militants. His home was raided today and a neighbour said she had seen Lakdim 'taking one of his younger sisters to school' before he launched his attack.
It has emerged that a French military officer took the place of a supermarket hostage, entering the danger zone as the drama unfolded. The 45-year-old lieutenant-colonel named as Arnaud Beltrame, who is now fighting for his life in hospital, left his mobile phone on a table so police could hear what was happening.
Through that phone, police heard gunshots inside the building and decided that elite forces had to storm the market, killing Lakdim.
The woman who lived with the gunman has been detained for questioning, the country's top anti-terror prosecutor has said.
Speaking in Carcassonne, Francois Molins said gunman Radouane Lakdim had claimed to be a soldier of ISIS before he was killed by police.