---
The fraud media here in Finland believe it as well, it dovetails with their Leftist ideological thinking that only Democrats (fellow Leftists) are in the right…
Like this 'genius' at the Helsingin Sanomat who can't figure out (or doesn't want to) that Flynn was a victim of process, not having anything to do with the actual brunt of the investigation (collusion with Russia). Another FBI agent in the room at the time, believed that Flynn did not in fact lie to investigators, and that the lead FBI agent, Peter Strzok, was compromised by his latent bias against Trump. It never ceases to amaze me how intellectually lazy and highly ideological people like Saarikoski are taken seriously by anyone.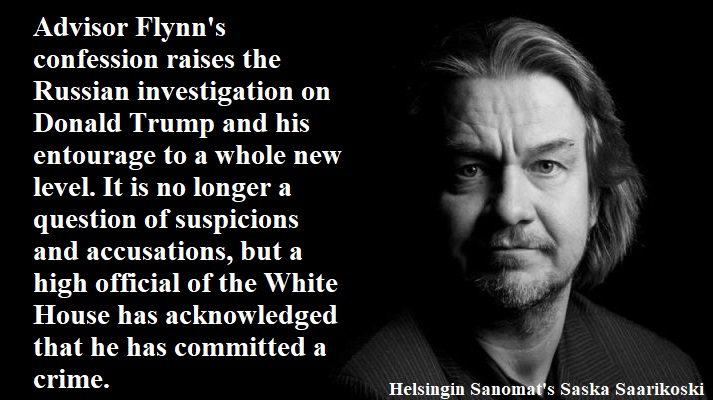 Who Believes in Russiagate?
Knowledgeable reporters on the left and right are frightened by the spread of an elite conspiracy theory among American media
Half the country hates Donald Trump, and even the half that thinks he's doing a good job often flinch from his boorishness, his nasty public attacks, sometimes even on his own aides. For all the top talent he says he's surrounded himself with, the president repeatedly attracts among the worst that Washington—and New York—have to offer. No doubt that's one reason why whatever is thrown at him seems to stick.
At the same time, there is a growing consensus among reporters and thinkers on the left and right—especially those who know anything about Russia, the surveillance apparatus, and intelligence bureaucracy—that the Russiagate-collusion theory that was supposed to end Trump's presidency within six months has sprung more than a few holes. Worse, it has proved to be a cover for U.S. intelligence and law-enforcement bureaucracies to break the law, with what's left of the press gleefully going along for the ride. Where Watergate was a story about a crime that came to define an entire generation's oppositional attitude toward politicians and the country's elite, Russiagate, they argue, has proved itself to be the reverse: It is a device that the American elite is using to define itself against its enemies—the rest of the country.
Yet for its advocates, the questionable veracity of the Russiagate story seems much less important than what has become its real purpose—elite virtue-signaling. Buy into a storyline that turns FBI and CIA bureaucrats and their hand-puppets in the press into heroes while legitimizing the use of a vast surveillance apparatus for partisan purposes, and you're in. Dissent, and you're out, or worse—you're defending Trump.
Recently, a writer on The New Yorker blog named Adrian Chen gave voice to the central dilemma facing young media professionals who struggle to balance their need for social approval with the demands of fact-based analysis in the age of Trump. In an article pegged to special counsel Robert Mueller's indictments of the Internet Research Agency, Chen referenced an article he had written about the IRA for The New York Times Magazine several years ago. After the Mueller indictments were announced, Chen was called on to lend his expertise regarding Russian troll farms and their effect on the American public sphere—an offer he recognized immediately as a can't-win proposition.
"Either I could stay silent," wrote Chen, "and allow the conversation to be dominated by those pumping up the Russian threat, or I could risk giving fodder to Trump and his allies."
In other words, there's the truth, and then there's what's even more important—sticking it to Trump. Choose wrong, even inadvertently, Chen explained, no matter how many times you deplore Trump, and you'll be labeled a Trumpkin. That's what happened to Facebook advertising executive Rob Goldman, who was obliged to apologize to his entire company in an internal message for having shared with the Twitter public the fact that "the majority of the Internet Research Agency's Facebook ads were purchased after the election." After Trump retweeted Goldman's thread to reaffirm that Vladimir Putin had nothing to do with his electoral victory, the Facebook VP was lucky to still have a job.