---
London celebrates the 10th Annual Passion For Freedom Art Festival
Passion For Freedom ART COMPETITION IS OPEN NOW – DEADLINE 31 July 2018
Films, books and journalists featured along with several dozen artworks from all over the world.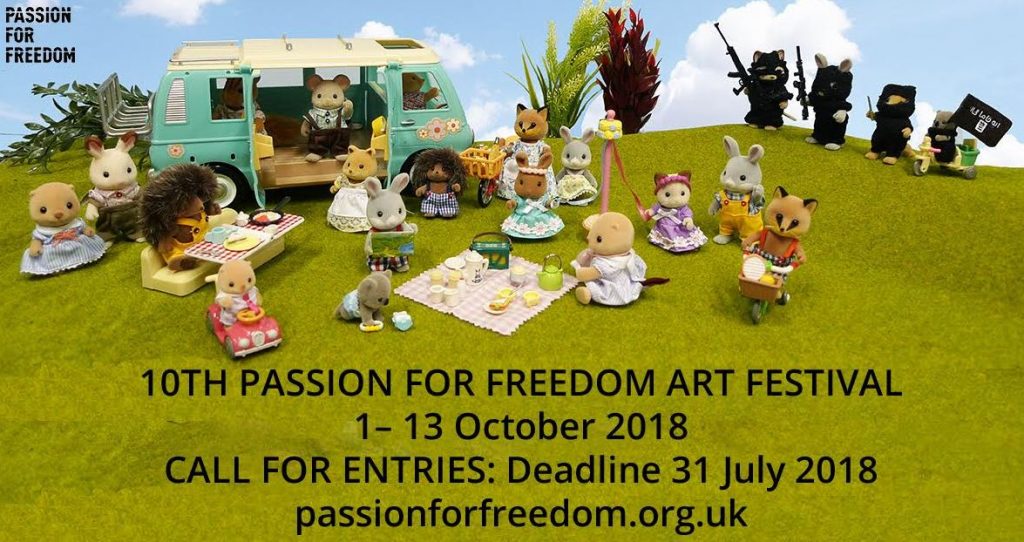 "The festival has a simple mission – which is to display the work of artists who are thinking seriously about freedom, what it means and how you preserve it. Passion for Freedom celebrates the people who not only do it, but who mean it. Go if you can – London's stunning 'Passion for Freedom' exhibition is worth an hour of anyone's time"
Douglas Murray
Journalist, broadcaster and best-selling author
London, 1th October 2018:
The internationally renowned Passion For Freedom art festival will open in London on Monday 1st October at its new home in the The Royal Opera Arcade Gallery & La Galleria Pall Mall. The exhibition will showcase uncensored art from the UK, Europe and around the world, promoting human rights, highlighting injustice and celebrating artistic freedom of expression.
The festival asks artists to consider three questions, the Passion For Freedom 3 (PFF3):
What is freedom?
How do you preserve it?
How do you celebrate it?
Passion For Freedom was started in London by a small group of friends who shared a goal of achieving basic human rights for all and decided to use art as both their weapon and their shield. Predominantly young women, they also sought to highlight the hypocrisy of the West when it comes to the female body.
The organizers focus on controversial and socially sensitive topics, often putting their lives and safety at risk.
Just three years ago (February 14, 2015) Passion For Freedom took part in a conference on freedom of speech, organized by the Lars Vilks Committee (the support organization of Lars Vilks, a Swedish artist and art historian famous for a drawing depicting the prophet Mohammet as a dog), which became the target of an Islamic terrorist. One person died in the shooting, Finn Nørgaard, a Danish filmmaker.
"They not only want to kill us. They want us to stop talking. Therefore, we should continue."- said Agnieszka Kołek, who immediately after the shooting, continued the conference.
Founder Camilla Forest commented:
"This is the festival's tenth year and it is going from strength to strength. We exhibit more and more exciting works every time and I expect 2018 to be our greatest year so far. The festival works now as an indicator for the level of freedom on a given continent, nation or even city. At our exhibition you will see what is happening in Venezuela, China, Pakistan, England or Poland and we are succeeding in removing the veil from these places. It seems anyone who limits freedom inevitably faces an artist's brush or singers verse, tyrants and great artistic movements go hand in hand.
As such, we will have to be around a while yet. We will continue our mantra of protecting and strengthening freedom, and our dream of the London festival becoming an annual celebration of freedom. For any official who appears with a list of restrictions, well it is also our task to check whether they still have a sense of humour or pulse. As Picasso said, "No painting is made to decorate apartments, it is an offensive and defensive weapon against the enemy.""
For 10 years the festival has shown works from over 600 artists representing 55 countries. This year there will be a collection of films and books, as well as an event about journalism.
Every year there is a Gala Ceremony which closes out the event. Three artists will be nominated for the General Awards and three films will receive our Freedom Film Awards. The audience will vote for their favourite piece of art in the People's Choice Freedom Award during the Gala Ceremony.
The festival is supported by world-famous artists such as Ai Weiwei, Mehdi–Georges Lahlou and Iranian director Jafar Panahi.
NOTES TO EDITORS:
JOURNALIST NOMINATIONS 2015:
Mona Eltahawy

, Egypt, USA
Mona Eltahawy is a freelance Egyptian-American journalist and commentator based in New York City. Arrested in 2011 in Tahrir Square, Eltahawy speaks out on behalf of women's rights in the Arab world. Her first book Headscarves and Hymens was published in May 2015. She has written essays and op-eds for publications worldwide including The Washington Post, The New York Times, Christian Science Monitor, and The Miami Herald. Raif Badawi, Saudi Arabia
Masoumeh Alinejad

, Iran/UK
Masoumeh Alinejad-Ghomi is an Iranian journalist and writer who now lives in exile in the UK. In 2014, Alinejad launched My Stealthy Freedom (also known as Stealthy Freedoms of Iranian Women), a Facebook page that invites Iranian women to post pictures of themselves without a hijab. She received the Women's Rights Award in 2015 from the Geneva Summit for Human Rights and Democracy. Her Persian language book, I am Free, which deals with women in Iran, was published in Germany due to a ban imposed in Iran.
Washiqur Rahman

, Bangladesh
Blogger Washiqur Rahman was killed due to anti-Islamic blog articles on 30th March 2015. The Committee to Protect Journalists issued a press release stating that Rahman's death occurred in a climate of "official harassment of journalists in Bangladesh". Imran H Sarker, a leader in the 2013 Shahbag protests and the head of an activist blogger network, commented "open-minded and progressive bloggers are being targeted in general. They are killing those who are easy to access … The main attempt is to create fear among bloggers." The recent murder of blogger Niloy Chatterjee underlines the threat to free speech in Bangladesh.
Avijit Roy was a Bangladeshi-American online activist, writer and blogger. He founded Mukto-Mona (freethinkers), an Internet community for freethinkers, skeptics and atheists. The site was nominated for The Bobs – awards which celebrate online activism. His aim was to build a society unbound by the dictates of arbitrary authority, comfortable superstition and stifling tradition but rather reason, equality and science. Roy worked not only in Bangladesh but internationally coordinating international protests against government censorship. He was hacked to death by unknown assailants in Dhaka, Bangladesh, on 26 February 2015.
Zvi is head of the Arab desk at Israeli News Channel 10. In 2010, he challenged President Mahmoud Abbas to appear on Channel 10 to respond to allegations that several of his senior aides have international aid transferred to the Palestinian Authority – Mahmoud has yet to accept the invitation. In 2012, Allah Islam, a documentary series Yehezkeli created with David Deri, debuted to great acclaim on Channel 10.
SPECIAL GUEST ARTISTS 2015
Kubra Khademi, Afganistan
Khademi is an artist who has highlighted the problems of sexual harassment faced by women every day by dressing in a metal suit which features exaggerated breasts and buttocks. She has faced death threats and is currently in hiding.
Atena Farghadani, Islamic Republic of Iran
Just 29, Farghadani is currently being kept in Tehran's notorious Evin prison facing charges of "insulting members of parliament through paintings". She drew a cartoon depicting Iranian politicians as animals as a result of meeting with the families of political prisoners of the state. Amnesty International describes her as a prisoner of conscience.
Jamie McCartney, United Kingdom
The Great Wall of Vagina typifies the sincerity Jamie brings to his sociopolitical artworks but also the humour he uses to get past people's natural scruples to engage with tricky subjects. Comprising plaster casts of 400 women's genitals, this 8m long wall sculpture is a direct challenge to the cosmetic surgery industry and to labiaplasty in particular. It demonstrates and celebrates the diversity of this part of the body which takes the brunt of many of our worst insults. Knowledge is power. Freedom from genital anxiety if the goal. "I didn't want to be part of a society that encourages women to cut off parts of their genitals and I was in a unique position to do something about it".
Jessica Fulford-Dobson, United Kingdom
One of the UK's most trusted photographers, she has worked for the Royal Family, the Churchills and the Guinesses. Jessica captured the wonderful world of Skateistan (an NGO formed in 2007) which encourages young girls from poor and displaced families back into full-time education through skateboarding.
Who'd have thought the small and furry Sylvanian Families would find themselves dragged into the war on terror? The anthropomorphised rabbits find their idyllic picnic scene is interrupted by "MICE-IS", a group of radicalised jihadi Sylvanians, brandishing rifles and knives.
Passion for Freedom with the Royal Opera Arcade Gallery &i La Galleria Pall Mall

The Royal Opera Arcade Gallery &i La Galleria Pall Mall
The most prestigious Contemporary Art Gallery and Auction House in London.
The Arcade was opened in 1818, a historical Georgian building, typical of its age. 

The gallery is located in the Royal Opera Arcade on prestigious Pall Mall, within the cultural heart of London, close to the National Gallery and the St James's area of galleries. 
The Arcade attracts a high-end clientèle due to the prestigious art, music and wine shops within the arcade and the famous gentleman's clubs in Pall Mall Street.
The gallery has hosted hundreds of celebrated British and International solo and group exhibitions.
Passion for Freedom (PFF) is a charity that promotes human rights and freedom of expression through art. PFF was started in London in 2007 by a small group of friends, mainly ladies with a common dream. Founded in 2007, Passion for Freedom began as a tightknit sisterhood dedicated to their shared values of free expression, and the power of art to inspire, awaken and shake the world. For any normal individual, dipping your toes into a world of government censorship, religious terrorism, and oppressed journalists takes real commitment to the cause. Our women fought these things for over a decade, all the while unpaid, juggling careers, relationships, secret agents, terrorist attacks, and Monday morning's Central Line. Each year we ask contributing artists, film producers, writers and journalists 3 pivotal questions:
What is freedom?
How do you preserve it?
How do you celebrate it?
The festival was recognized by Madonna and highlighted in her Freedom Calendar 2014. PFF cooperated with BBC on its Freedom Year Program last year, and it continuous cooperation with Royal Holloway University on the 800th anniversary of Magna Carta. Passion for Freedom stands for freedom. PFF involves others in education projects and breaks political correctness in media.